LEVC, the vehicle manufacturer specialising in hybrid electric vans and taxis, is poised to launch a range of full electric cars and commercial vehicles promising up to 359 miles of range as it plans major global expansion.
LEVC will use its existing dealer network of 27 sites as its main route to market for sales and aftersales.
While reluctant to reveal exact model details for the UK, LEVC (London EV Company) gave a clear indication of its ambitions at the unveiling of a new modular platform at its production facility at Ansty, Coventry.
"This platform is an overview of our capabilities and scalability," said LEVC UK managing director Chris Allen. "We aren't giving specifics – that's the next stage. We have to align the right products with the right markets.
"But we have big ambitions that span from passenger luxury consumer through business to utility vans.
"This platform gives us the flexibility and it satisfies the BEV range."
Three battery options will be offered: 73kWH with WLTP range of 225 miles; 102kWH with 308 miles; and 120kWh with 359 miles.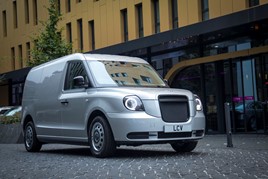 LEVC's franchisees include the AM100 dealer groups Vertu Motors and Endeavour Automotive. Lookers was previously a LEVC franchisee, but ended representation.
LEVC  also announced an enhancement for its TX taxi and VN5 light van (pictured), with both vehicles benefitting from a larger and more efficient battery.
The 34.6 kWh unit upgrades LEVC's state-of-the-art eCity powertrain, offering increased capacity (up from 31 kWh) and greater efficiency, with even lower CO2 emissions for the TX and VN5, bolstering the contribution of LEVC's vehicles to improving urban air quality.
Thanks to the new battery, the TX taxi now emits just 14g/km of CO2 (down from 19g/km) while the VN5 emits 17g/km (down from 19g/km). Drivers and owner operators are driving further too, with TX's electric-only range now 78 miles (up from 64 miles) and its total range increasing to 333 miles (up from 318 miles).  VN5's electric-only range improves to 73 miles (up from 64 miles) and 328 miles* in total (up from 318 miles).
According to Kent Bovellan, LEVC chief architectural engineer, the new SOA platform – Space Oriented Architecture – can accommodate five structural types to suit more than 40 model variants. These include small car (A-B sectors), compact/mid-size (B-D), large premium/sport (D-F), large/luxury (F+) and light commercial vehicle.
The platforms will be divided into two chassis options: a premium product with rear multi-link suspension and a commercial platform with stiffer leaf spring rear for loading.
Bovellan said the SOA was designed to meet five brand pillars: space, safety, performance, smart and green. It is also specific to LEVC and will not be shared across parent company Geely's other brands, which include Volvo, Polestar and Lotus.
Batteries are located under the driver's seat to further free up space. LEVC claims 75% utilisation of cabin space compared to a competitor average of 67%.
Production for the expanded range of cars and vans is likely to take place at the Ansty production plant. It has capacity for 20,000 units a year but it currently making 3,000 taxis and VN5 range extender vans.
"Our factory is scalable for tomorrow," added Allen. "We are on a glide path where out targets, Government targets and social requirements are all coming to fruition and we want to be at the front of that wave."