HSF Group has become the latest Volvo Car UK retailer to subscribe to the premium Swedish brand's new corporate identity (CI) standards – opening a new showroom in Leatherhead.
Volvo Cars Leatherhead, on Barnett Wood Lane, previously known as Squire Furneaux Leatherhead, opened its doors to customers this month.
Peter Nott, sales director at Volvo Cars Leatherhead, said: "We are thrilled to have officially opened the doors to our new Volvo Cars Leatherhead showroom. We've already received fantastic feedback from those who have visited.
"This has been a significant investment for us, but our new location is about more than a change of furniture – it's designed to create a space where our customers can feel relaxed and at ease in an environment that provides flexible waiting, working and assessment areas.
"We're looking forward to welcoming existing and new customers to our future-ready home to discuss their motoring needs."
Volvo retailer HSF Group represents the brand at Squire Furneaux Guildford, Volvo Cars Thames Ditton, Volvo Cars Tonbridge, Parkside in Orpington and McNaughton Ross in Ticehurst, alongside its Volvo Cars Leatherhead operation.
Retailers in the Swedish brand's UK car retail network are still awaiting the roll-out of a new agency model distribution model after a three-month postponement to its plans.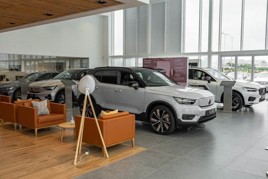 Implementation of the direct-to-consumer distribution model had been planned as early as April, but Volvo followed Stellantis in stalling its plans, shifting its scheduled roll-out to June 1.
Set to deliver sales under the new structure, HSF's new Leatherhead showroom features Volvo's signature lounge area and 10 electric vehicle (EV) charging points.
It also offers the Volvo Personal Service aftersales initiative, which sees the same technician liaising with the customer from the point of booking right through to explaining services.
Two technicians work together on each car, reducing the time it takes for the service to be fulfilled.