Used car retailer Cazoo reported a 690% year-on-year growth of gross profit per unit and overall gross profits up 367% to £14 million in Q1 as its CEO asserted that its sweeping restructure was starting to "bear fruit".
Today's (April 27) Q1 results statement revealed that GPU climbed to £980 during the first three months of 2023, as a 29% reduction in wholesale vehicle sales saw the volume of sold vehicles slowed to 17,447 units (Q1 2022: 18,679) – accelerating to reach its full-year target of £1,200 in March.
The result helped Cazoo achieve an uplift in gross profits, despite an 11% decline in revenues to £247m.
Chief executive Paul Whitehead said he was "very pleased" with the performance. He said: "Our focus on unit economics, together with the restructuring changes, is starting to bear fruit as evident in the significant improvement in Retail GPU to £980 in Q1 2023.
"We are applying a more targeted approach to which vehicles we buy, guided by our proprietary data of their desirability, with a better selection of models available on our website driving better margins."
Whitehead said a record 52.5% of buyers (up from 47.4% in Q1 2022) arranged financing directly through Cazoo's online platform in Q1, with applications delivering higher acceptance rates.
He added: "Our cash position remains strong with £215m of cash and cash equivalents and approximately £60m of self-financed inventory."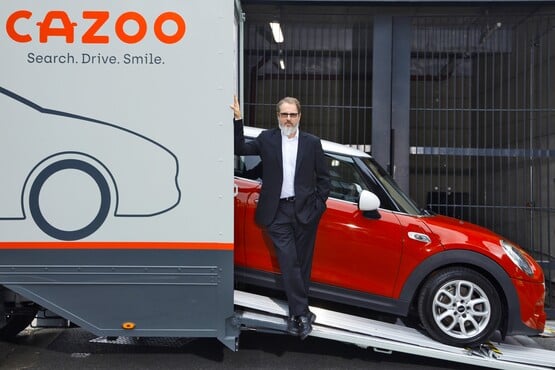 Last month Cazoo founder Alex Chesterman said he was "incredibly proud of everything the team at Cazoo has achieved" in a financial results statement that revealed the online used car retailer's £704 million losses for 2022.
Cazoo retained just seven of its 22 of customer centres and made hundreds of staff redundant amid sweeping site closures earlier this year.
Used car preparations centres were also closed in the restructure of its UK operations, which followed the sale of its operations in Germany, Italy and Spain.
February also brought the sale of its used car valuations business Cazana, just over 17 months after it was acquired for £25m.
Commenting on the impact of the actions in today's statement, Whitehead said: "During the quarter, we took the difficult decision to reduce our headcount materially in order to optimize our fixed costs which resulted in c.£13 million of one-off costs.
"We expect to see a reduction in SG&A run rates of over £25m per quarter by Q4 2023, representing over £100m of annualised savings going into 2024.
"As we guided previously, the cash utilization rate is expected to reduce to approximately £30m per quarter by the end of the year, and we anticipate finishing the year with between £110m and £130m of cash and between £15m and £25m of self-financed inventory.
"We reiterate our guidance for 2023 and remain fully focused on delivering profitable growth."
Cazoo is aiming to sell between 50,000 and 60,000 cars in 2023.