Tesla's Model Y emerged as Europe's best-selling car during Q1 2023 as the crossover electric vehicle (EV) beat Dacia's Sandero, the VW T-Roc, Peugeot 208 and Vauxhall Corsa to top spot year-to-date.
Elon Musk's EV brand delivered 71,683 Model Y's in the period, which was up 173% year-on-year and left its more than 1,100 units ahead of the high-flying affordable Dacia hatchback in second place.
The result was cemented after the European new car sector delivered 26% growth in new car registrations in March, with volumes rising to 1,414,815 units last month, and by 17% in Q1 to 3.22 million units – its best Q1 performance since pre-COVID 2019.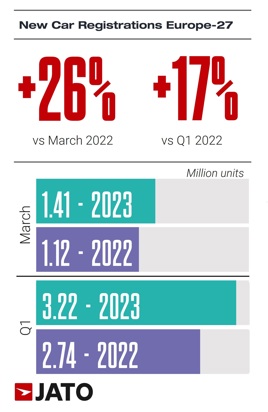 Tesla sales accounted for 28% of all BEV registrations in March, and 22% for Q1 as more than half of Europe's Q1 registrations were zero-emission vehicles.
BEV volumes increased 43% to over 219,000 units in March, growing market share to a quarter-year record of 13.4%.
Felipe Munoz, global analyst at JATO Dynamics, said: "Increase in production alongside fewer supply chain issues enabled Tesla to finally deliver vehicles to its customers at pace.
"The Model Y will likely be among the five best-selling products in Europe at the end of this year."
Tesla's success with the Model Y followed the Californian EV brand's recent price cuts, which resulted in an average 11% reduction in revenue per unit as it delivered 422,000 vehicles in the first three months of 2023.
The Model Y's success also came at the expense of the brand's smaller Model 3, which saw registrations dip by 42% in March and 40% during Q1.
Munoz added: "Given the popularity of SUVs, it is perhaps unsurprising that the Model Y has risen in demand, in comparison to its sedan peer."
Volkswagen led the way as Europe's best-selling car brand in Q1, registering a 25% uplift year-on-year to 332,723 units.
In second place was Toyota (220,019), with Peugeot (178,572), Audi (178,393) and Mercedes-Benz (176,041) making up the rest of the top five.
Ford was down in ninth place, despite a 4% increase in volumes year-on-year to register 147,068 cars.
Jato highlighted the Volkswagen Group's BEV registrations total, with the German OEM giant ending Q1 just 2,400 units behind Tesla as its volume rose by 57%.

"Even during the reigning period for Tesla, Volkswagen's rise equalled Tesla's", Jato said.
"With Volkswagen performing better in March, registrations grew by 75% in comparison to Tesla's 44%."
Geely Group, SAIC Group, and Toyota also produced good results in the BEV market during Q1.
SAIC's MG and Maxus brands fared well with MG making the top 10 BEV ranking of OEMs – ahead of Nissan, Toyota, and Ford.
Toyota, still marginal in terms of BEV volume, registered more than 3,700 units of the bZ4X. This saw the manufacturer's overall BEV volume grow by 437% during the quarter.