Jaguar Land Rover (JLR) has revealed that it will invest £15 billion to electrify its UK manufacturing operations over the next five years.
The Tata-owned OEM revealed today (April 19) that its Halewood plant in Merseyside would become an all-electric manufacturing facility with its Engine Manufacturing Centre in Wolverhampton also set to be renamed Electric Propulsion Manufacturing Centre under the new plans.
It comes as JLR prepares to launch a fully electrified Range Rover, a new £100,000 four-door Jaguar GT car and agency model retail alongside a major 'House of Brands'-themed restructure of its car retail network.
New JLR chief executive Adrian Mardell reaffirmed the business's commitment to its Reimagine strategy in a press conference at Gaydon, highlighting its aim of repositioning the company as an electric-first, modern luxury carmaker by 2030 as it targets a net cash positive position by 2025 and double-digit EBIT by 2026. 
"Two years ago, we launched our Reimagine strategy and since then we have made great progress, including launching two new critically acclaimed modern luxury Range Rover and Range Rover Sport models, joining the Defender family, for which there is record demand," said Mardell.
"We achieved this while navigating the headwinds of the pandemic and chip shortages, and successfully ramping up production of our most profitable models to deliver profit in Q3.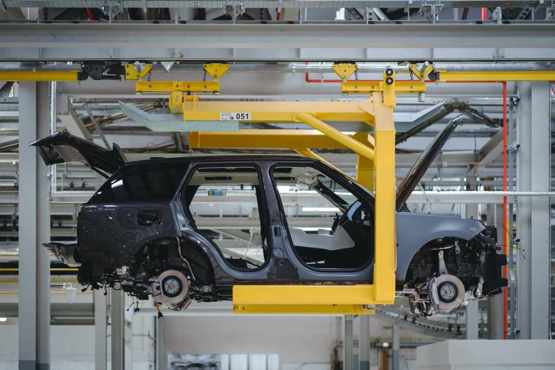 "Today I am proud to announce we are accelerating our electrification path, making one of our UK plants and our next-generation medium-size luxury SUV architecture fully electric. This investment enables us to deliver our modern luxury electric future, developing new skills, and reaffirming our commitment to be net zero carbon by 2039."
JLR confirmed it will open order books for its all-electric Range Rover later this year.
It also revealed that the first of its next generation medium-size modern luxury SUVs will be another all-electric model Range Rover launching in 2025 and built at Halewood.
The OEM asserted that its Range Rover and Range Rover Sport models would continue to be offered with internal combustion engine (ICE), hybrid and electric drivetrains in order to meet the needs of different markets around the world.
JLR also announced that the first of three new Jaguar models will be a four-door GT built in Solihull, featuring more power than any previous Jaguar, a range up to 700km (430 miles), and indicative pricing from £100,000.
Further details would be released later this year, it said, before the new EV goes on sale in selected markets in 2024, with deliveries from 2025.
Central to JLR's brand transformation will be a reimagining of its retail offering.
Last month AM reported that the OEM's UK retailers had expressed uncertainty about the future scale of its dealership network as it moves towards an agency model future.
JLR has already confirmed it will move to agency model distribution by 2024, and has revealed plans to restructure its retail partners' vast Arch Concept showrooms to accommodate brand zones as part of a House of Brands strategy, but uncertainty remains about potential cuts to the network.
While one retailer told AM reports of cuts from the current 83-site network down to between 18 and 20 were "probably on the money", another said the figure was "off the mark".
In today's announcement JLR said its House of Brands shift would serve to "amplify the unique character of each of its brands – Range Rover, Defender, Discovery and Jaguar – and accelerate the delivery of the company's vision to become proud creators of the world's most desirable modern luxury automotive brands for the most discerning clients".
Commenting on the new approach, JLR's chief creative officer, Gerry McGovern, said: "Pivotal to our Reimagine strategy is the formation of the House of Brands, which is a natural evolution, with a purpose of elevating and amplifying the uniqueness of our characterful British marques.
"Our ultimate ambition is to build truly emotionally engaging experiences for our clients that, overtime, will build long-term high equity for our brands and long-term sustainability for JLR."