While the auto show business model remains in flux, the recent
New York International Auto Show featured several all-new
production and concept vehicle introductions. Though the overall
number of intros was low compared to historical norms, it is
reflective of the industry's effort to promote its transition to an
EV-dominant market, while still selling millions of legacy
internal-combustion vehicles. (Note: Pricing for these vehicles
will be announced closer to when they go on sale.) Among the new
vehicles introduced:
Ram 1500 REV
What It Is
Ram's first battery electric full-size pickup brings full
electrification to the Ram brand and introduces the new Stellantis
family STLA-Large vehicle platform.
Key Features
With another year before the REV arrives, tech details were
selective. There will be two battery options, one targeting about
350 miles and the other with 500 miles of range. It will use two
electric motors, one at each axle and both 250kW. As an EV, all the
recent hot buttons are included. The Ram REV will offer
vehicle-to-load and bi-directional charging, and be able to provide
power to a house, tools on a job site, or another EV. The charging
system will be able to add about 110 miles of range in about 10
minutes on a DC fast charger, with its 800-volt system and 350kW
charger.
The truck will boast 14,000 pound towing capacity and up to
2,700 pounds payload capacity, figures higher than some of its
internal combustion engine versions (no towing range figures were
made available). Infotainment takes a step up, including new center
stack and driver cluster screens, as well as adopting the
front-passenger side screen launched in the Stellantis family with
the Jeep Grand Wagoneer. Advanced driver-assist features will
include optional hands-off/eyes-on driving functionality as well as
an automatic parking system.
Why It's Important
The transformation of the US light-vehicle market from reliance
on internal combustion engines to EV propulsion has begun, and over
time it will need multiple options in nearly all segments we have
today. Ram is the third of the traditional automakers to announce a
modern, full-size EV pickup truck, but has come with impressive
early specifications. Expectations are largely that the full-size
pickup truck EV subset will see similar ranking as the ICE
versions, with the Ford brand leading the volume pack, followed by
Chevrolet, then Ram and GMC. However, all three companies are in
the process of growing and scaling EV production. How quickly these
brands get to scale could affect near-term sales rankings.
Our Take
The launch product specifications are competitive, focused on
the areas that truck buyers care about and leveraging technology
from across the corporate portfolio to create the top Tungsten trim
level. Still, it doesn't arrive for another year and Stellantis has
been criticized as maybe late to the game. However, by time the REV
is available to consumers, there will be incremental improvements
in the charging infrastructure and consumer education, increasing
the pool of buyers ready to make the jump to electric. Ram's
positioning as a fast-follower could put the brand in a stronger
position for being able to meet growing demand. At least in the
first couple of years, isn't likely to have any problem selling as
many as they can make.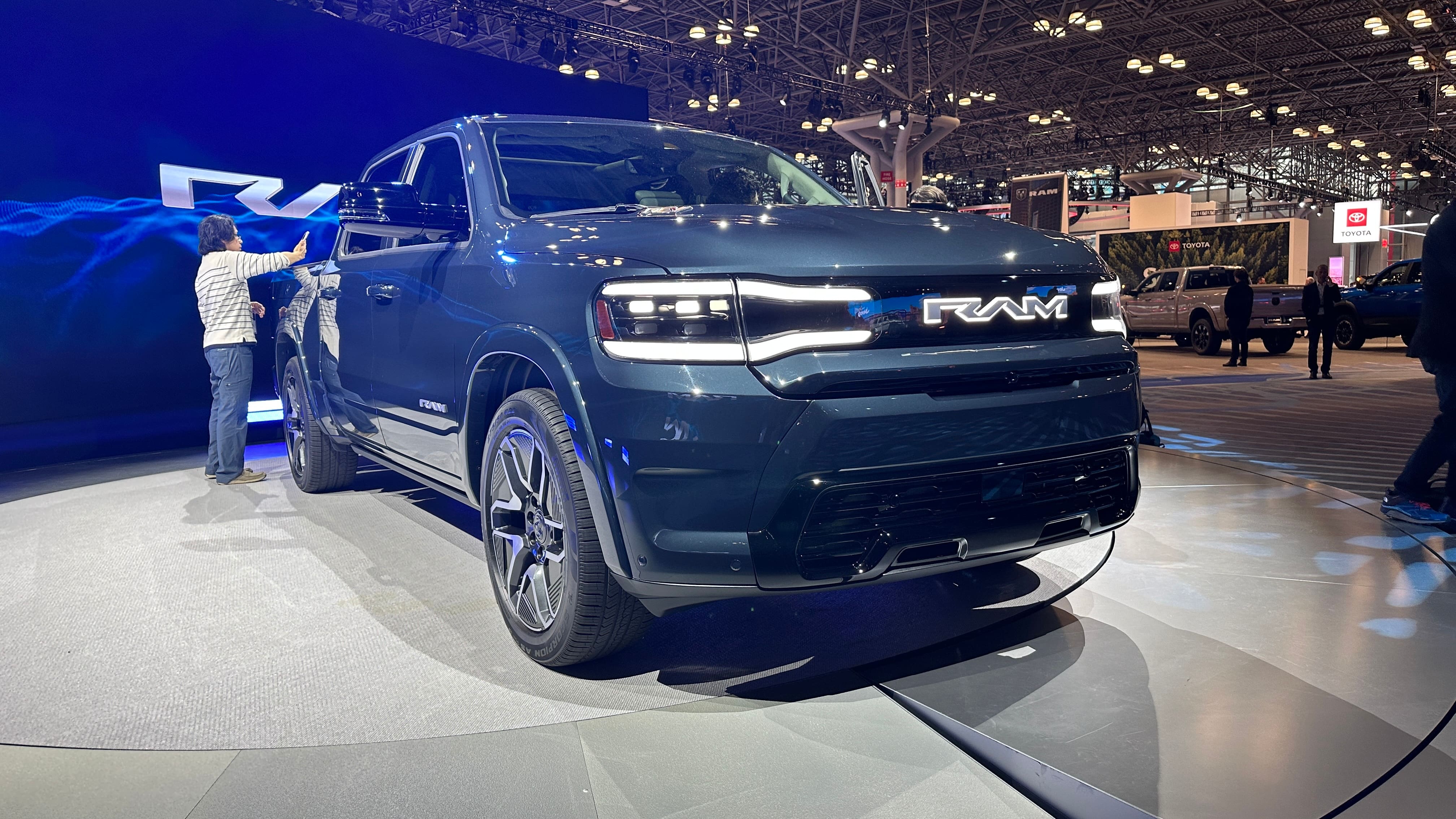 Source: Stephanie Brinley
Kia EV9
What It Is
Kia's second dedicated EV for the US is the EV9 three-row
crossover. Based on the E-GMP platform of the EV6 (and sister
brands Hyundai Ioniq5 and Ioniq6 and Genesis GV60), the Kia is due
on market as the first three-row EV from a mainstream brand. Its
blocky exterior design is meant to move the brand forward while
maintaining a family resemblance. The EV9 is due to arrive in the
US in the third quarter of 2023, with production in the US starting
in mid-2024.
Key Features
The EV9 is slightly longer than the Telluride, similar in width
and height. The extra inch in length improves cargo space but does
not change available space significantly. The flat floor, however,
provides the opportunity to develop that space differently from
traditional SUVs. In some markets, the EV9 will offer front seats
which can be turned to face the second or third rows; safety
concerns are expected to nix some of those ideas for the US.
The EV9 will be offered with a 76.1-kWh battery with a single
215 horsepower motor, or a 99.8-kWh battery available in single- or
dual-motor configurations. The star of the range will be
dual-motor, all-wheel-drive, 379-hp EV9 GT. The single-motor large
battery pack version is expected to have about 300 miles of range;
final EPA figures will be released closer to launch. Maximum DC
charging speed is up to 230kW, enabling 10%-80% charge in about 25
minutes, depending on the charger.
Like the EV6, the EV9 will offer vehicle-to-load charging. The
EV9 gets the next iteration of Kia's infotainment and connectivity­
– the Connected Car Navigation Cockpit operating system. With this
architecture, over-the-air updates will be available, unlocking
potential for feature updates (potentially fee or subscription
based) over time. Digital Key has been improved so that drivers no
longer need to hold the smartphone next to the car; it can read the
phone if in a pocket or bag.
Lidar-capable driver assist technologies are advanced with a new
highway drive assist and improved lane-keeping assist. In
international markets, EV9 (along with Genesis) is expected to
offer Level 3 driving assistance. It is not clear if the L3 system
will be available in the US. Currently, only one Mercedes-Benz
model offers Level 3 – and only in Nevada where the company has
been given regulatory approval to do so.
Why It's Important
The transition toward electric vehicles as a primary or dominant
propulsion system takes time, and product, as noted. The Hyundai
Motor Group is rapidly deploying new vehicles on the E-GMP
architecture, across the Kia, Hyundai, and Genesis brands, while
enabling each brand to deploy design and technology tailored to its
chosen brand personalities. For Kia, making its next EV a three-row
utility vehicle puts them ahead of other mainstream brands eyeing
this segment. In the US, EV9 sales are expected to be dwarfed by
the Telluride for the next several years, as the production base
for EVs is still being developed. The EV9 will see US production in
2024, which increases potential that it will be eligible for some
portion of the US federal EV incentives.
Our Take
Kia is taking an aggressive approach to electrification, while
still maintaining internal combustion engine vehicles that are
expected to make up about 58% of the US light-vehicle market in
2030, according to S&P Global Mobility forecasts. Kia offers
some products with multi-energy platforms, with ICE and hybrid
solutions, as well as expanding full EV offerings. While premium
brands focus on moving more rapidly to a full EV product lineup,
the lower price points and global scale of a brand like Kia makes
offering a mix of solutions necessary. Against this backdrop,
however, the EV9 points more toward Kia's long-term future than the
recently refreshed (but still hot-selling) Telluride.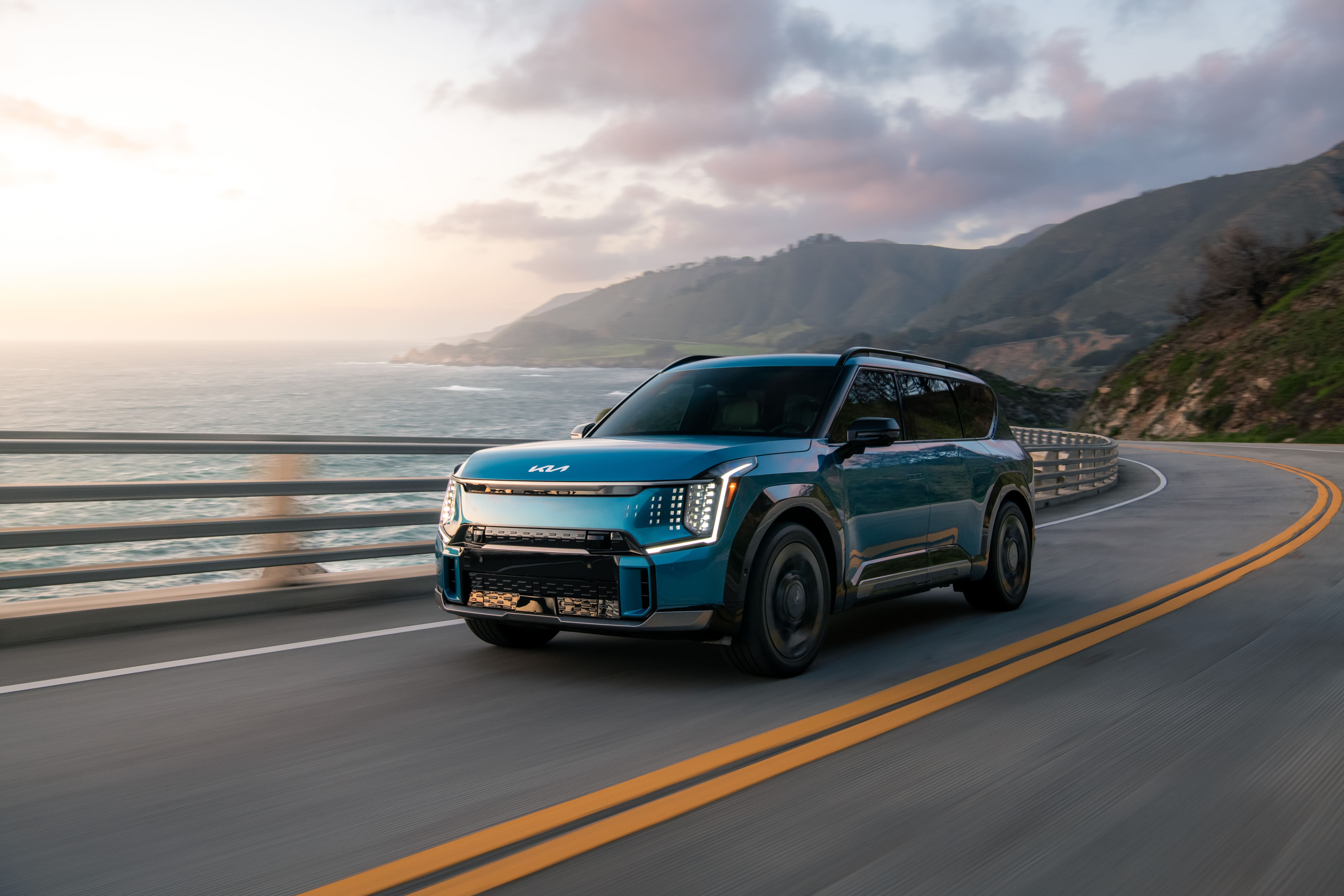 Source: Kia
Hyundai Kona
What It Is
The second-generation Kona and Kona EV small utility vehicle
will hit US dealerships in late 2023. Hyundai's stand featured the
N Line and Electric trims prominently, juxtaposing the
future-forward EV as well as the performance-edged
internal-combustion versions.
Key Features
Kona will continue to be offered with three propulsion systems:
the normally aspirated entry 2.0-liter 4-cylinder and the
195-horsepower 1.6-liter 4-cylinder. Not yet shown is a likely
replacement for the first-generation, 300-horsepower N version (not
to be confused with the N-Line trim package). For this generation,
Kona launches with the Limited as its base model, working to
position itself away from the base, entry-level space. The ICE Kona
arrives in mid-2023, with the Electric coming in third
quarter.
Hyundai says that with this generation, it prioritized developed of
the Kona Electric, which seems visible in the more-closed front
fascia styling. The Electric will have a 64.8-kWh battery, and is
expected to deliver 260 miles of range, similar to that of the
first generation. The redesigned version adds vehicle-to-load
capability, i-Pedal (one-pedal) driving mode, a smart regeneration
system and active grille shutters. One limiting factor: As the Kona
Electric is not on a dedicated EV platform, it is a 400-volt
architecture and will take about 43 minutes to charge from 10% to
80%.
Kona updates include dual 12.3-inch display screens, digital key
and over-the-air updates from Hyundai's next-generation
infotainment system. The Kona is 5.7 inches longer, has a wheelbase
that is 2.3 inches longer and it is an inch wider than the first
generation, following consumer feedback and clearing more space to
the smaller Venue. Though the Kona offers a strong level of driver
assist systems, it will not rise to the level being offered on
larger Hyundais.
Why It's Important
Hyundai Kona slots between the entry Venue and the compact
Tucson. With the Kona, Hyundai offers a spectrum of utilities
across the size and pricing landscape. Kona's execution can help
build Hyundai loyalist buyers, or turn them away if not executed to
customer expectations. Pricing for the new generation is a few
months away; note any increases will be balanced by more content
with this generation. Keeping pricing in check could put Hyundai in
a strong position as buyers face increasing interest rates and
economic headwinds this year, making affordability a more
significant issue.
Our Take
The current generation sales peaked at about 90,000 units in the
US in 2021, but the new generation will not likely see this level
as Hyundai expands its product portfolio with more EV-specific
offerings. Hyundai is not due to add a new dedicated EV in the
subcompact CUV US segment until 2026; the Kona EV carries on as
Hyundai's most affordable EV. As the vehicle is imported, it is not
expected to be eligible for the US federal tax credits, leaving
Hyundai little room for discounting and at a potential disadvantage
for a price-sensitive segment. The internal combustion engine
version goes up against vehicles like the Chevrolet Trailblazer and
Buick Encore GX, which are also both new for the 2024 model year.
This segment also sees the all-new Dodge Hornet, which is offered
with an internal combustion engine version and a plug-in hybrid
version which may well prove to be about the same price as the Kona
EV.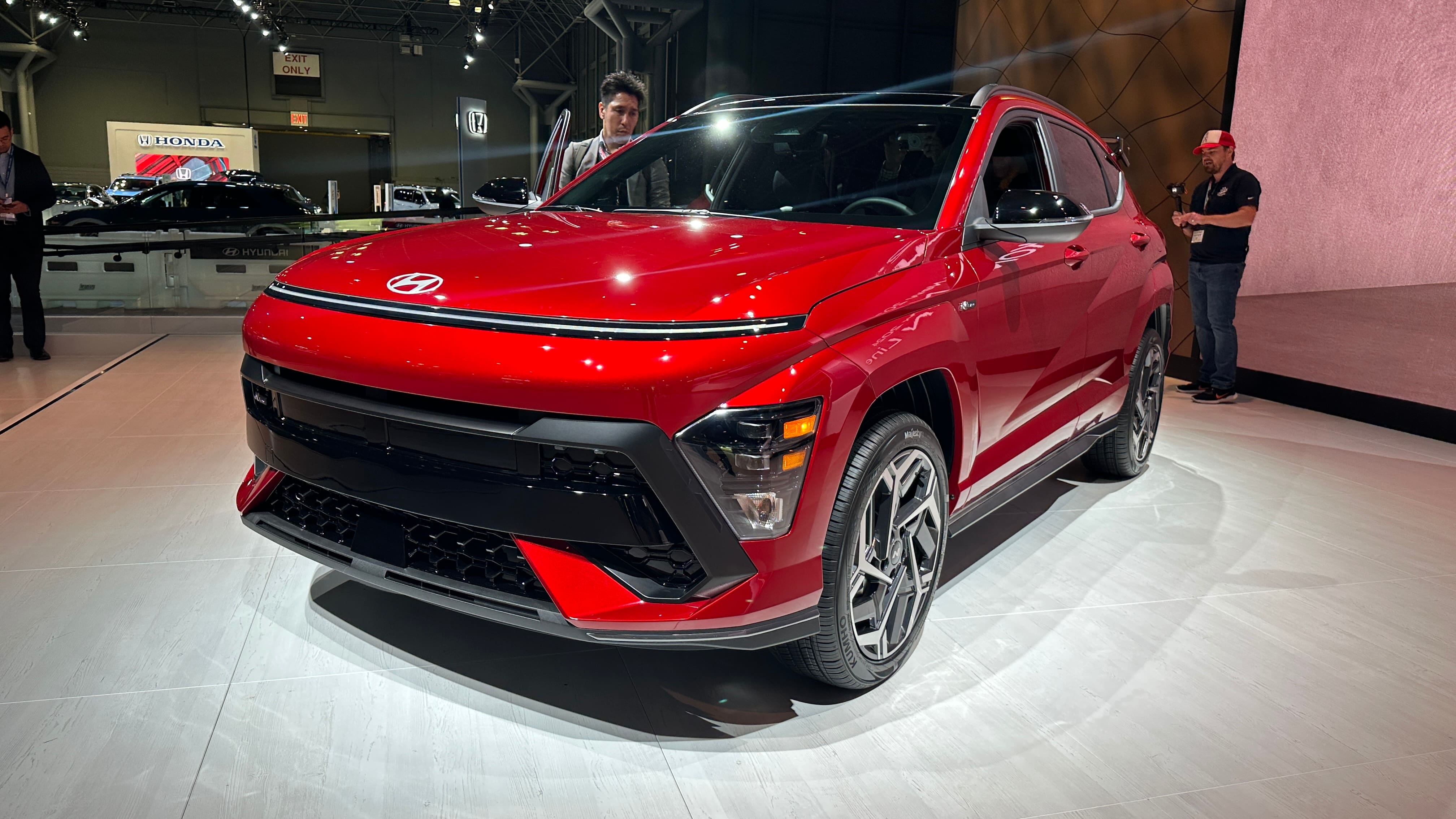 Source: Stephanie Brinley
Genesis GV80 Coupe Concept
What It Is
Based on the current GV80, this faster-roof version of the
flagship utility vehicle is headed for production, likely carrying
many of this concept vehicle's cues.
Key Features
The concept featured an update to the GV80 design, though it
continues Genesis quad lights and "Double G-Matrix Patterned Crest
Grille," with four slots in the bumper which optimize cooling.
There is a carbon fiber roof, with an upper rear spoiler and
spoiler lip to enhance performance aerodynamics. The GV80 Coupe
Concept featured four bucket seats, each with a carbon fiber
backrest painted in body color, and a strut brace behind the
second-row bucket seats to reinforce the body stiffness – and
suggests that such an improvement might be necessary. Powertrain,
feature, and dimensional specifications were not provided.
Why It's Important
Genesis is a comparatively young luxury brand, still building
out its portfolio. The brand says that this step is meant to be the
start of a performance portfolio, with sedans and utility vehicles
already offered. Genesis is also learning from the established
brands, and the GV80 coupe will provide a more dynamic look and
attitude to complement the GV80. As a concept, not many
specifications were detailed, but the current powertrain lineup is
expected. As the also-related G80 sedan has a full-electric
version, it is possible to the production GV80 coupe also will
boast electrification. Genesis is among the brands aiming to be
all-electric by 2030; depending on what direction Genesis goes with
the production powertrain, this could be the last new ICE product
Genesis offers.
Our Take
Genesis development is largely progressing well, thanks in part
to the ability to draw from the scale of parent Hyundai and the
patience the company has shown with the development process.
Growing its portfolio toward a niche or performance arena is the
next logical step. The next-generation GV80 is due about 2026, this
first GV80 Coupe may have a relatively short shelf life, and
therefore carry only as much production differentiation from the
GV80 as necessary.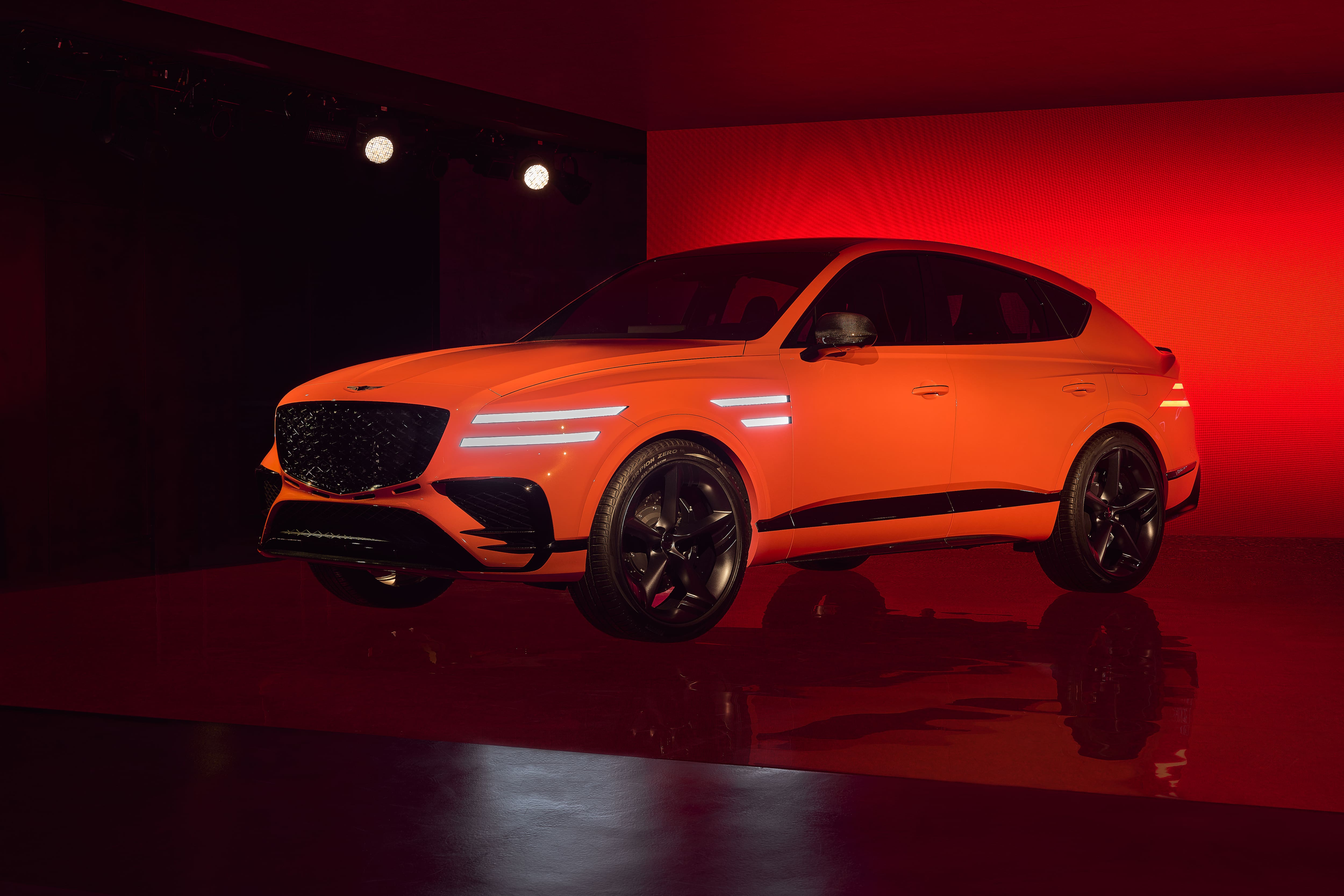 Source: Genesis
---
This article was published by S&P Global Mobility and not by S&P Global Ratings, which is a separately managed division of S&P Global.