Steven Eagell could be about to secure the acquisition of 13 Toyota and Lexus car dealerships from Marshall Motor Group.
AM sources revealed that staff at the affected former Motorline businesses, which were acquired by Marshall in October 2021, were informed of the potential deal in meetings yesterday (April 4).
If completed, the move could signal Marshall's exit from a second new car franchise since its summer 2022 acquisition by BCA, cinch and WeBuyAnyCar owner Constellation Automotive.
In October it completed its exit from the Kia franchise through the sale of its two dealership sites to Drayton Motors and Donalds Group.
Marshall inherited a total of 13 Toyota and five Lexus franchised sites when it acquired Motorline.
For Steven Eagell it would mark another step in its rapid growth, coming eight months after it confirmed its acquisition of Inchcape's Toyota dealership in Oxford.
Completion of that acquisition grew the Milton Keynes-based AM100 car retail group to 32 locations with the Japanese OEM and its premium sister brand Lexus – comprised of 23 Toyota dealerships and nine Lexus.
Constellation Automotive and Marshall Motor Group declined to comment when AM asked about the sale of sites to Steven Eagell today.
A spokesperson for Steven Eagell Group said it was "company policy not to discuss or comment on any acquisitions until they are complete".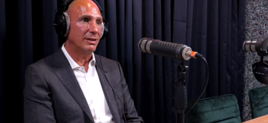 In an interview for the AM News Show podcast last year Steven Eagell Group chief executive Steven Eagell told AM how his role in the AM100 car retail business is to ensure it recruits "better than me" so it has the skill set to succeed.
Marshall Motor Group remains on the lookout for a new chief executive under the ownership of Constellation Automotive.
Former CEO Daksh Gupta left the business shortly after the business received the regulatory approvals it required to complete the Marshall's acquisition in May last year.
On Monday (April 3) AM reported that former Cambria Automobiles finance director and current cinch CEO James Mullins had joined Marshall Motor Group board.
A statement issued to AM by Constellation Automotive later that day stated that Marshall had "recently appointed Mark Hemus as CFO, and a CEO replacement search continues" but omitted words from an earlier draft reported by other media outlets which stated: "We can confirm that James Mullins will not be taking up either of these roles."