A group of women footballers from Inchcape UK teamed-up with former squad members from England's national team of Lionesses to raise funds for Leukaemia UK.
Women from the AM100 car retail group's Birmingham head office and its Jaguar Land Rover (JLR) retail division headed to the Football Association's (FA) St George's Park training facility to compete in the annual Copa Del Cure Leukaemia last weekend.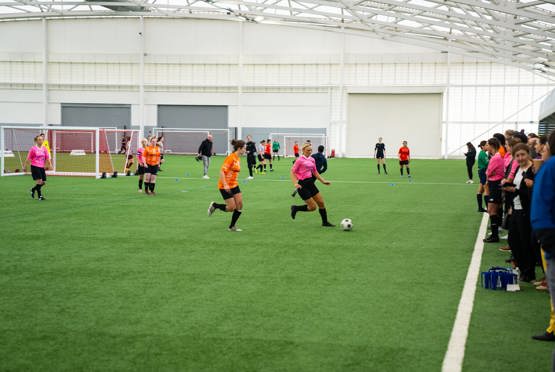 Inchcape UK supported Cure Leukaemia as its charity of the year in 2022, donating £12,000 as a result of its fundraising and support, and its involvement in the annual six-a-side tournament succeeded in adding a further £2,00 to the total.
Employees used the retail group's gifted volunteering day to take part in the event, which saw them play alongside ex-England lioness and Wolves, Liverpool and Everton player Jody Handley on the pitch.
The Inchcape team was made up of: chief transformation officer Katie Martin; SEO and content editor Charlotte Smith; JLR Guilford's sales executive Annabel Mould, sales administrator Jo Philps, corporate sales advisor Makayla McGloin and receptionist Rosie Savage; JLR service advisor Lydia Duckworth; Porsche Bournemouth workshop manager Amy Dilley; and Inchcape UK head of communications Kayleigh Hellewell.
This summer Inchcape colleagues will be fundraising once again as a group take part in the 'London 2 Paris' cycle bike ride.
The gruelling ride will be taking place between June 8 to 12. To sponsor the group's efforts, click here.