Kia has outlined its plan to grow its profit contribution from electric vehicle (EV) sales more than 10-fold as annual zero emissions vehicle volumes grow to 1.6 million by 2030.
The Kia Corporation gave an insight into its future strategies at its third annual Kia CEO Investor Day since the Korean carmaker's 2020 unveiling of its long-term strategy entitled 'Plan S'.
This morning's (April 5) event, held in Seoul, South Korea, revealed that the OEM is targeting a growth in EVs' contribution to global profitability of 53%, up from 5% today, as it swells its range of zero emissions vehicles to 15 models.
Kia's updated plan came as it increased its 2030 annual sales target to 4.3 million units – 34.4% higher than its 2023 annual sales target of 3.2m units – of which 2.38m will be electrified vehicles.
Kia's new 2026 annual EV sales target of one million units and 2030 EV sales target of 1.6m units represent 25% and 33% increases on goals announced a year ago.
Kia Corporation president and chief executive Ho Sung Song said: "In 2021, Kia went through a full-scale transformation of its corporate name, logo, product and design, as well as corporate strategy.
"As a result, our brand value has improved significantly, helping us to win a number of 'Car of the Year' awards in key markets.
"In order to become a Sustainable Mobility Solutions Provider, Kia needs to continue its efforts to strengthen Kia brand identity and establish an innovative and customer-centric business model."
Kia was the AM Awards 2022's Manufacturer of the Year and also claimed the AM Awards New Car of the Year title with its Sportage SUV as it propelled itself towards its 100,000 new car registrations target.
Growing EV range
The OEM now plans to build an EV line-up of 15 models by 2027, including the recently revealed EV9 flagship SUV revealed recently.
This is one more than the '14 models by 2027' announced last year.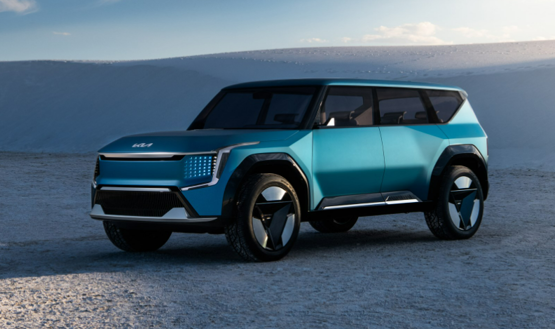 Kia revealed that it will aim to develop its sales mix with a focus on "highly profitable models" – a shift discussed by Kia UK president and chief executive Paul Philpott in a recent interview with AM – and higher trims.
From 2025 it also plans to launch a series of purpose-built vehicle, including an autonomous driving "robotaxi" set to be built at its production facility in Hwaseong.
Following the plan announced last year, Kia revealed that it also plans build a connected car data cloud and apply connectivity features to all newly-launched vehicles from 2025.
An array of OTA services and additional features available at the Kia Connect Store will help customers to choose features tailored to their lifestyle and keep them up to date at all times, it said.
Kia is targeting gross revenue KRW 97.6tril (£59.5bn), operating profit of KRW 9.3 tril (£6.2bn) and an operating profit margin of 9.5%.
Its long-term financial goals include: growing gross revenue to KRW 160tril (£97.6bn) in 2030, an 84% increase from 2022; increasing operating profit to KRW 16tril (£9.8bn), a 122% improvement over 2022; and increasing operating profit margin to 10%, a 1.6ppt uplift over 2022.