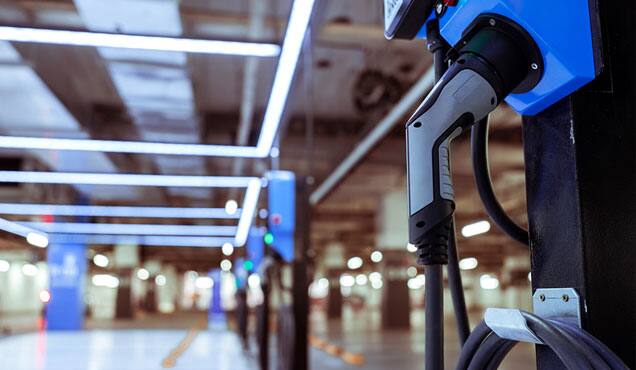 Scaling the grid to serve millions of EVs will present
massive (and mundane) infrastructure challenges
Electric vehicle (EV) consumers and the architects of the EV
charging infrastructure agree that more chargers are needed—and
soon. However, there may be a gulf between what consumers want, and
what the infrastructure is able to deliver.
This goes well beyond the histrionic headlines about EVs
crashing the California power grid during a heat wave—although
modulating grid load management is indeed a key element of
developing a charging network. Rather, more mundane practicalities
like city permitting and hiring sufficient numbers of local
electricians and skilled laborers may be more pressing
concerns.
Two panels at CERAWeek analyzed the challenges that lay ahead to
create a charging network able to absorb the millions of EVs that
will ply America's roads by 2030.
Currently, EV early adopters charge from home or work 80-90% of
the time. As the vehicle population grows, owners may need more
flexible options in the field. The "second wave" will be less
tech-savvy, less forgiving to EV compromises, and less malleable to
change their behaviors compared to early-adopters.
The solution is much more technical than merely building more,
better chargers. Charging in the field brings complexity issues,
especially regarding payment. Consumers don't want to navigate a
smartphone full of apps for EVgo, Electrify America, Chargepoint,
and automakers' charging networks depending on which station they
use.
"Seamless payment is important because it's about your time. If
you spend four minutes trying to make a payment, your EV experience
is done," warned Aditya Jairaj, senior director of EV
strategy and transformation for Nissan Motor Corp.
Human behavior is what will move EVs from niche to mass market,
said David G. Victor, professor of innovation and public policy at
the University of California, San Diego.
"This is not about getting charging to parity with gasoline, but
to make it a tolerable experience," Victor said. "This is an
engineering problem, but it's also a human behavior and
organizational behavior problem. We can't think of this like
engineers."
For instance, the Ford BlueOval charge network has 84,000 charge
plugs and 10,000 DC fast-charge plugs via the Ford OnePass for
charge-and-pay. Ford is continually checking its network with teams
of "charge angels" that ensure the chargers are working properly
from a user-interface perspective.
"Usually, the fault is a communication protocol or billing
failure, not equipment. But one bad charging experience can turn
off a customer for years," said Adam Benshoff, Ford director of EV
policy.
The mainstream EV consumer only wants one thing: For the network
to work. To arrive at one brand's charger to find their car or app
doesn't want to pair with the plug is unforgiveable.
"The station is complex. Communicating with the car is complex.
The driver doesn't care. He just wants to charge," said Doron
Frenkel, founder and CEO of Driivz, which builds charging operating
system software.
Frenkel likens the situation to wireless telecom 20 years
ago—when a big issue was how (and whether) an AT&T phone
would enter a new cell area and be able to connect to a rival
T-Mobile network. That's where open charge point interface (OCPI)
software protocols must come into play, to enable seamless
inter-brand charging, Frenkel said.
It comes down to, "How do we charge, where do we charge, and do
we incentivize certain ways of charging?" said Graham Evans,
director of automotive supply chain and technology for S&P
Global Mobility.
And that's just customer expectations. Then comes the real
challenge: Building a massive, stable, and revenue-positive
charging network cost-efficiently and scaling it to function
reliably for millions of vehicles without getting bogged down in
bureaucratic or technical obstacles.
"There is extraordinary demand we are seeing," said Catherine
Hunt Ryan, president of manufacturing and technology for
engineering, construction, and project management giant Bechtel.
"There are constraints on capacity additions."
Such as? Grid access not set up for distributed infrastructure,
supply chains not ready for bulk orders of switchgear, and getting
utility and city partners to understand the need for programmatic
networks instead of the "onesies and twosies" that have been built
so far, Hunt Ryan said.
Then there are the mundanities, such as dealing with local
bureaucracies. A charging company might have grand plans to install
tens of thousands of chargers in the greater Los Angeles area. But
the cities of Los Angeles, Santa Monica, and Long Beach may have
different permitting regulations and processes—which could
bring scaling the network to a crashing halt.
Even the near-term requirements are steep.
S&P Global Mobility estimates there are about 126,500 Level
2 and 20,431 Level 3 charging stations in the United States today,
plus another 16,822 Tesla Superchargers and Tesla destination
chargers.
Even looking at EV sales growth by 2025—just three years
away—S&P Global expects there will need to be about 700,000
Level 2 and 70,000 Level 3 chargers deployed, including public and
restricted-use facilities.
Looking further to 2030, with the assumption of 28.3 million EVs
on US roads, an estimated total of 2.13 million Level 2 and 172,000
Level 3 public chargers will be required—all in addition to the
units that EV owners put in their own garages.
"We're not looking at three to five years for our investments,
it's 20 to 30. We need to be tied into urban and regional
planning," said Sunny Elebua, senior vice president and chief
strategy and sustainability officer for Exelon. That means
analyzing EV sales projections and traffic flow patterns,
cross-referenced with grid data to determine where charging hubs
need to go.
For instance, an interstate highway charging hub might require 5
megawatts—about the same as operating a night game at a
football stadium. But if the hub includes a truck stop for Class 8
big-rig EVs, that electrical demand leaps to 20 to 40 megawatts,
which is equivalent to a small town.
"That requires planning," Elebua said. "We can't advance
electrification without looking at the impact on the built
environment. Maybe we're not even part of the grid anymore."
---
This article was published by S&P Global Mobility and not by S&P Global Ratings, which is a separately managed division of S&P Global.