The Society of Motor Manufacturers and Traders has laid out its blueprint for the UK to become one of the world's most competitive locations for advanced automotive manufacturing in the electric vehicle (EV) age.
Britain's ability to compete as an EV production leader is at risk unless the Government responds to increasingly fierce international competition from abroad, the SMMT asserted as it revealed details of its Race to Zero: Powering Up Britain's EV Supply Chain report today (March 13).
Coming just days before Chancellor of the Exchequer Jeremy Hunt's Spring Budget, the report calls for an urgent response to initiatives such as the US $370 billion Inflation Reduction Act and EU Green Deal Industrial Plan to boost the UK's automotive sector.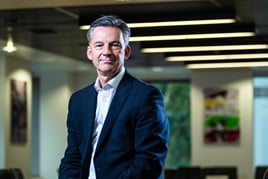 SMMT chief executive Mike Hawes said: "Britain boasts a firm foundation of EV production, backed by low carbon energy, outstanding R&D and a highly skilled and productive workforce. We must not squander these advantages.
"With other parts of the world turbocharging their support for the zero-emission vehicle transition, we need to step up to compete in this global race.
"Every part of the country has a stake in the switch and with fast, decisive action we can deliver for Britain the growth, jobs and green prosperity this country deserves."
The SMMT's proposed strategy identifies investment, regulation and trade as the key pillars to anchor future vehicle production in Britain.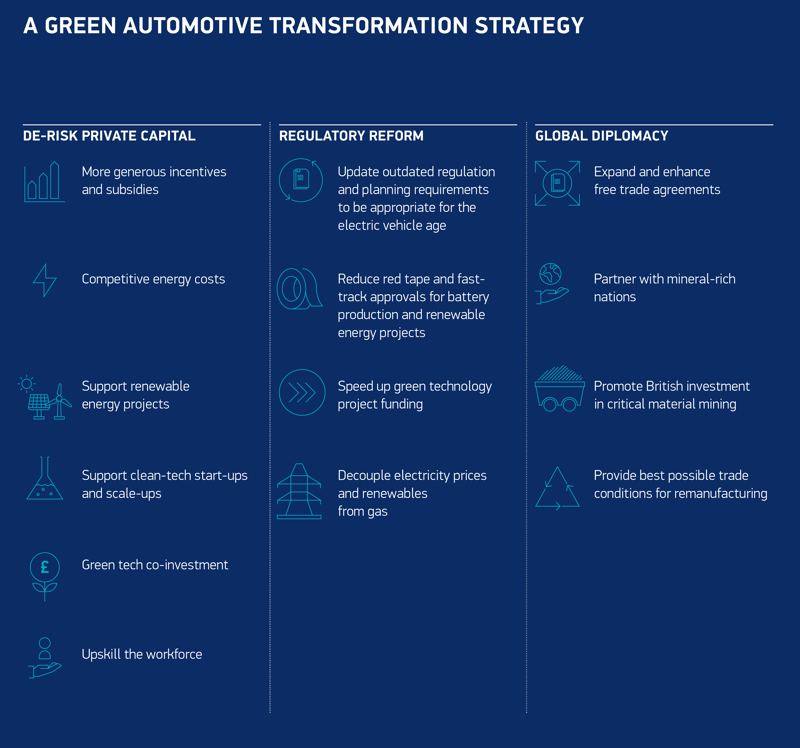 De-risking private capital with more competitive incentives and action on energy costs, with support for the next British 'unicorns' in batteries and renewables, will stimulate greater investment in EV enterprises.
Reform of regulation will accelerate delivery of new production facilities and renewable energy generation.
Maximising trade opportunities, meanwhile, would help secure access to essential raw materials.
Such moves will secure the essential gigafactories which can underpin EV production, the SMMT suggested.
After Britishvolt was allowed to slip into administration earlier this year – later to be acquired by Australian start-up Recharge Industries in February – the future of the UK's battery capacity has become one of the sector's hot topics.
To date, more than £11 billion has been invested by manufacturers in EV production locally, leading to fully electric or hybrid vehicles comprising almost a third of all UK-built cars last year, with an export value of £10 billion.
Bentley's first-ever electric vehicle (EV) will be developed and built in the UK, Ford has committed to EV drivetrain production in the UK and Stellantis made Ellesmere Port its European centre for zero-emissions van production.
A week ago Car magazine also reported that BMW Group may be poised to rubber stamp production of the next-generation of Mini EV in Oxford. The German OEM had previously said production would shift to China.
By 2025, the UK's automotive sector is anticipated to produce more than 20 models of electric cars, vans, buses and trucks, contributing to the economy and jobs in all regions of the country.
Meanwhile, every part of the UK contributes to the EV supply chain, with a 25% increase in the number of these businesses in the last five years.
Richard Peberdy, UK head of Automotive for KPMG, said: "Some countries, like the USA in the form of its Inflation Reduction Act, have developed bold policy moves to encourage inward investment in next generation manufacturing facilities for the electric vehicle supply chain – and these are proving effective at securing big bet investments from car makers. 
"At present, the UK is proving a less attractive proposition for new vehicle manufacturing facilities.
"It's imperative for the future of the UK car industry and its related employment and exports, that industry and government jointly address how the UK can be as globally competitive as possible."