Used examples of Nissan's Leaf electric vehicle (EV) have defied the recent slump in pre-owned EV values to top Dealer Auction's Retail Margin Monitor rankings in February.
The zero-emissions hatchback knocked the second-top performing model in 2021 and 2022, the Land Rover Discovery Sport, off top spot with an average margin of £3,750.
It comes just three weeks after Cap HPI director of valuations Derren Martin told AM that car retailers who suffered "significant pain" as a result of falling EV values could soon be seeking out zero emission forecourt stock once again as their depreciation started to slow.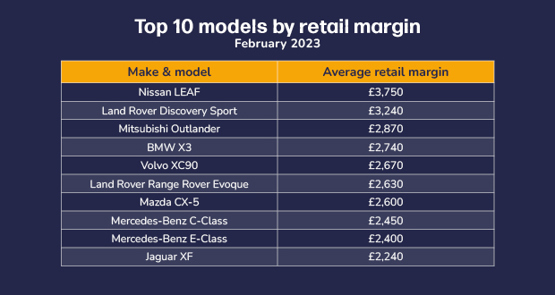 Last month's performance from the Nissan Leaf saw it become the first electric model, and the first non-Land Rover, to top Dealer Auction's Retail Margin Monitor since its January 2022 launch.
Marketplace director Kieran TeeBoon said: "As only the second Nissan model to enter our top 10 models tables since the launch of our Retail Margin Monitor, the Nissan Leaf entering in first place is unexpected.
"Not only is it the first time we're seeing the Leaf, it's the first time we've seen such success for an electric vehicle on our platform.
"It's taken a while to see the increasing popularity of new EVs filter down to the used market, so this certainly inspires excitement.
"We'll be watching closely to see how the Leaf and other electric vehicles perform in upcoming months."
Renault's Zoe is one of the few EVs to appear in the Monitor's top 10 in recent years, featuring in January 2022 (£2,540) and February 2022 (£2,400).
The Leaf is the first electric vehicle to rank with an average margin of over £3,000, however.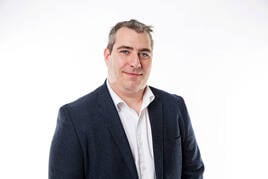 Auto Trader insights director Richard Walker said: "It's fantastic to see change at the top of the table with the Leaf's impressive almost £500 lead on the number two spot.
"Our speed of sale data supports this as in February the three fastest selling used models were alternatively fuelled vehicles."
Land Rover retained its position as the number one brand in the Retail Margin Monitor's top 10 table last month, achieving an average retail margin of £2,870.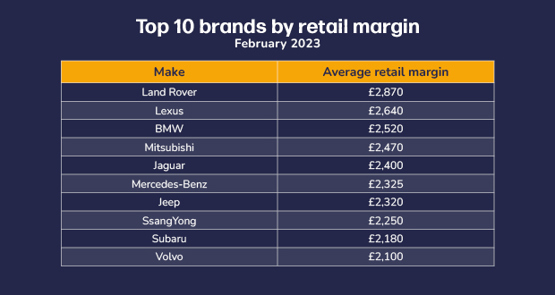 Elsewhere, SsangYong (£2,250) made its first appearance in eighth place, featuring alongside rival SUV brands Jeep (£2,320) and Subaru (£2,180).
TeeBoon said their appearance in the top 10 served as a reminder that retailers should stock their forecourts with a range of vehicle, but added: "Despite a Land Rover vehicle not taking the top model ranking, the marque has two popular derivatives further down the table. And, when you consider that Land Rover once again ranked as the number one brand this month, it doesn't look like the marque's popularity will be waning any time soon."