Rybrook's development of new Bentley and Porsche dealerships in High Wycombe reached new heights this week with the erection of a totum for the British luxury car brand.
The AM100 car retail group's progress at the site at Handy Cross Hub, Marlow Hill, High Wycombe, was chronicled in a LinkedIn post this week.
It gives a glimpse of the new dealership site as work commences to set the landmark signage – visible from the nearby M40 motorway – in place.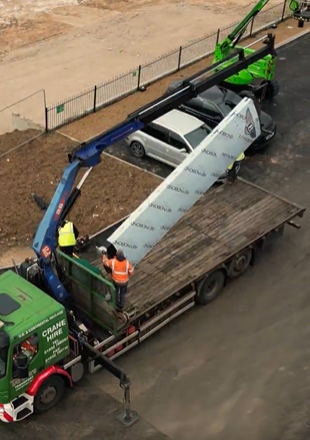 A comment accompanying the post said: "Today was a very important day at Bentley High Wycombe; we are proud to show off our new Bentley totum being installed.
"Whilst some people may think that it's just a sign, for us all at Bentley High Wycombe it marks our journey at High Wycombe and the great future that we have here."
Last summer Dealership Developments shared images and details of the planned Porsche and Bentley car retail facilities, which are now situated on the site of a former leisure centre.
The firm said it would incorporate 'living walls' in both buildings as part of eco-friendly measures, including 10 electric vehicle (EV) charge points.
The site's Porsche Centre will be the larger, measuring 3,953 square metres, while the Bentley dealership will be 1,655 square metres.
At the time Dealership Developments also submitted plans for a 492 square metre preparation workshop.
As well as showrooms, sales areas, MOT testing and office space, the facilities will feature around 200 parking spaces.
Rybrook represents Bentley, BMW, Jaguar Land Rover (JLR), Lamborghini, Lotus, Maserati, McLaren Automotive, Mini, Rolls-Royce, Volvo and its own Rybrook Specialist Cars used car brand at 38 retail and aftersales locations.
In December it completed the acquisition of Helston Garages' Porsche car dealership in Exeter.