BCA has reported that it expects used car values to "remain strong" after 1.7% month-on-month rise in February – despite growing volumes.
The Constellation Automotive-owned remarketing giant reported that values averaged £8,540 – up £140, or 1.7% – last month as sold volumes increased for the second month running and performance against guide price improved marginally to 98.4%.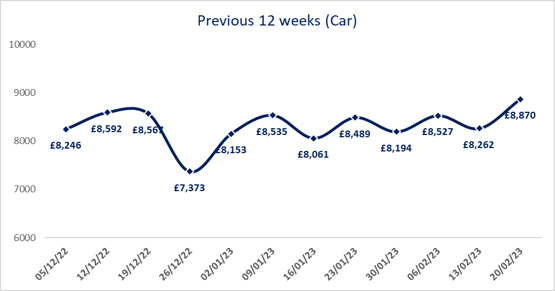 Chief operations officer Stuart Pearson said: "While the cost-of-living squeeze continues, there is some light at the end of the tunnel for consumers with news that government help with energy costs is expected to continue and forecasts that inflation will fall to around 4% by the end of the year.
"After some significant pricing realignment over recent months, we've also seen the used EV sector starting to stabilise for a number of models, which has stimulated a significant change in retail interest."
"From a supply perspective, the SMMT has reported seven consecutive months of growth in new car registrations but, even after a 26.2% rise in February, we are still a long way behind the high points of the pre-pandemic period.
"Added to this, we are also approaching the three-year anniversary of the first lock-down, when many of the supply challenges in the new car market commenced."
Pearson concluded: "The net result of all of this is a definite resilience to the used car sector that is unlikely to waiver for some time. Even with some further acceleration in new car registrations expected over the next few months, the ongoing shortage of quality 0-to-three-year-old product should mean that supply and demand will remain reasonably well balanced for the foreseeable future."
Last month Cap HPI director of valuations Derren Martin predicted that car retailers who had suffered "significant pain" as a result of a recent slump in used electric vehicle (EV) values could soon be seeking out zero emission forecourt stock once again.
"I'd say that the hit has already been taken and we're starting to see values stabilise again", he said.