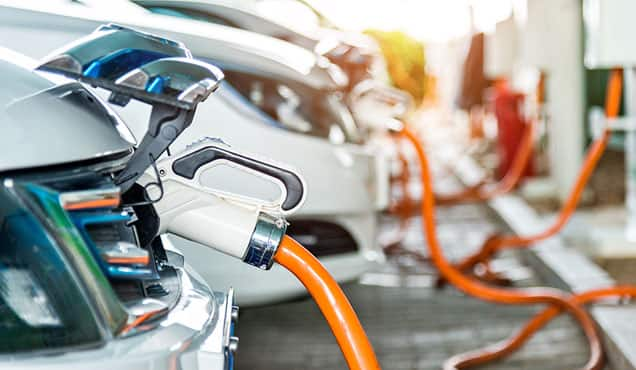 CERAweek: Range anxiety has been replaced by charging
time and user experience concerns
Are battery-electric vehicles (BEVs) a product of industry
innovation or of governmental policy intervention?
That was the question polled of an audience of industry experts
at CERAweek by Andrew Fulbrook, S&P Global Mobility vice
president for sustainable mobility. (You have to read to the end to
see the audience reaction.)
Mihai Dorobantu, director of technology planning and government
affairs for Eaton's Vehicle Group, said that it hasn't been so much
governmental mandate as a compass direction rather than the main
driver for innovation in the auto industry.
"Without significant external intervention, (BEVs) will not
happen. But without a compass, it's not going to be efficient if
each OEM comes with its own solution," Dorobantu said. "Ten years
ago, an EV was a glorified golf cart. Now it's a high-performance
vehicle."
One unintended consequence of the push toward battery-electric,
however, has been that some automakers have shifted R&D capex
away from other propulsion developments, said Chris Bennett, global
head of ESG Strategy and M&A for S&P Global
Sustainable1.
By focusing so intently on BEV technology, "Are we missing other
ways to reduce emissions because we are allocating resources
elsewhere? Are we missing something that could have some impact
today?" Bennett asked.
The panel gave a brief moment of grudging respect to Toyota for
its willingness to test multiple technologies—even though its
unwillingness to fully commit to EVs has earned it scorn in the
media and among some government officials and environmental
groups.
As EV technology improves and market share grows, data are
showing an evolution in the concerns of potential buyers, Fulbrook
noted.
The key issue is no longer range anxiety and/or finding a
charger; now the concern is how long it takes to recharge. "I'm not
seeing headlines about EV owners going back to internal combustion
because of long charging times," Dorobantu said.

S&P Global Mobility estimates there are about 126,500 Level
2 and 20,431 Level 3 charging stations in the United States today,
plus another 16,822 Tesla Superchargers and Tesla destination
chargers. Even looking at EV sales growth by 2025—just three
years away—S&P Global expects there will need to be about
700,000 Level 2 and 70,000 Level 3 chargers deployed, including
public and restricted-use facilities.
If the infrastructure improves sufficiently to allow most people
to recharge at work or home, and only on road trips does the
recharge time factor matter, smart travel planning can accommodate
for those worries, said Christel Galbrun-Noel, mobility segment
president for Schneider Electric.
Even that elapsed-time concern is fading somewhat; more
complaints are arising regarding the charging experience—issues
surrounding software and hardware glitches, non-acceptance of
credit cards at charging stations, or needing multiple smartphone
apps for differently branded chargers, Galbrun-Noel said.
Digitizing the charging network with a network-agnostic app or
having the vehicle's head unit be able to communicate with every
network will solve that concern, Galbrun-Noel added. Once those
issues are solved, EVs will have a better way to cross the chasm
into the mainstream.
As for the audience vote? They overwhelmingly believed EVs were
the result of "policy intervention." Then again, the ratio of
audience members who own electric vehicles was barely 10%.
Confirmation bias, perhaps?
— By Mark Rechtin, executive director and executive editor,
S&P Global Mobility
---
This article was published by S&P Global Mobility and not by S&P Global Ratings, which is a separately managed division of S&P Global.