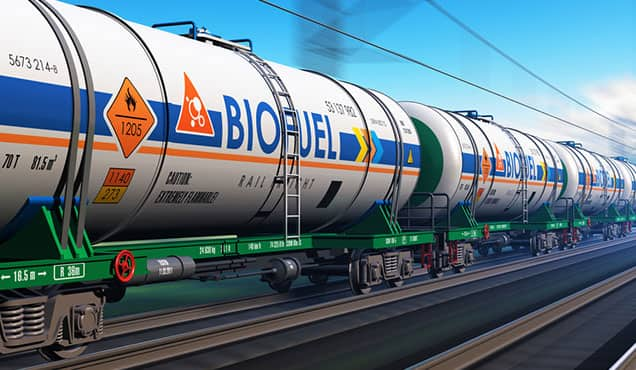 'Drop-in' bio-fuels can help decarbonization efforts
until new options arrive
As efforts to decarbonize transportation intensify, a wide range
of less carbon-intensive fuels and alternative-propulsion
technologies are emerging. In the ongoing question whether
electrons or molecules will be the future propellant of our
vehicles, the answer likely is both.
A CERAWeek expert panel comprising several energy companies
found the solutions likely will be driven by local and regional
market conditions.
The transportation fuel mix will evolve differently across
sectors and geographies, with policy, technology, and
infrastructure among the key variables.
"Today we focus on drop-in fuels that use the existing
infrastructure: CNG, LNG, RNG, biodiesel," said Carlos Augusto
Maurer, executive vice president for sectors and decarbonization
for Shell. "We can leverage the infrastructure we have and the
existing global trading business. But you will hit the top of how
many biomasses you can supply, and you need to move to
electrification and hydrogen.
"Inevitably, we will end up in a poly-fuels world. The
regulations are different in different places. You have to work
with regulators, OEMs, customers, and end users to understand a
reasonable and affordable glide path," Maurer added.
With the Russian invasion of Ukraine, energy security and
self-sufficiency have become larger contributing factors to energy
decisions, from what previously had been "a transactional
relationship," Maurer said.
But while solutions may be custom-built, energy projects such as
green hydrogen require large investment to scale, said Carlos
Barrasa, executive vice president of commercial and clean energies
for Spanish energy company CEPSA.
"We cannot start with a small project. We need big projects, big
infrastructure, with the right regulatory support, to have fully
competitive renewable power. With the right subsidies we can have a
viable product," Barrasa said.
Finding new ways to create less-carbon-intensive fuels for the
existing, older vehicle parc is a priority. Synthetic fuels are
nothing new; they have been around since World War II. Today, HIF
Energy is exploring methanol conversion.
HIF's process takes renewable energy to create green hydrogen,
then synthesizes it with carbon dioxide to make "eMethanol." Once
in that state, it can be converted to gasoline, said Clara Bowman,
COO of HIF Global.
"It is identical to a fossil fuel, and we are not taking more
carbon out of the ground. We can make jet fuel or diesel, it can be
used for plastics. Everything done with petroleum we can do with
eFuel or synthetic fuel," Bowman said.
Getting lower-carbon fuels into the existing vehicle parc of 1.3
billion vehicles is essential, said Edouard Tavernier, president of
S&P Global Mobility.
"The vast majority of future on-road emissions come from what is
on the road today. If we want to decarbonize faster, we have to do
something about the existing fleet of vehicles," Tavernier
said.
Small wins are already happening. Last fall, more than 200
flights from Seville, Spain, used sustainable aviation fuel. "When
you do it locally, you can see change happen. Local experiments
then get to a tipping point," Barrasa said. "I don't believe in
systemic change at a global level. It has to start locally."
— By Mark Rechtin, executive director and executive editor,
S&P Global Mobility
---
This article was published by S&P Global Mobility and not by S&P Global Ratings, which is a separately managed division of S&P Global.