Eden Motor Group is launching a new car subscription mobility service after becoming Karzoom's retailer partner for the Thames Valley.
The AM100 car retail group will offer vehicles from franchised partners Mazda, Hyundai, Peugeot, Suzuki and MG on one-to-three month short-term agreements as part of the new offering, which promises a "completely seamless and fully managed car ownership experience".
Customers can arrange delivery to a location of their choosing when using the subscription service, facilitated by Karzoom, which follows similar partnerships with Perrys Motors, Hendy Group and Brayleys Cars.
Eden Motors chief executive Graeme Potts said: "Karzoom manages everything through its central online system, including all elements of the booking process, meaning all the hard work is completed by the Karzoom Team, whilst we manage the vehicles and the customer handover process."
Potts added: "Since 2008, Eden has constantly evolved its business model. As a natural step forward, this partnership will allow you to easily explore and access a range of products and services across the Hyundai, Mazda, Vauxhall, MG, Peugeot and Suzuki franchises in the Thames Valley.
"Vehicle subscription forms a key part in the development of our omnichannel business operation."
Perrys managing director Darren Ardron told AM that he saw Perry's Flex – a subscription offering created in partnership with Karzoom late last year as having various potential advantages.
As well as plugging a gap for businesses keen to offer new employees a company car, but scuppered by OEMs' current long lead times, it would prove another source of used cars, he said.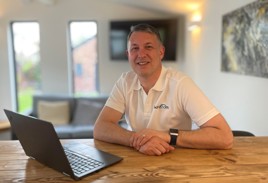 Former ASE chief commercial officer Mike Fazal founded car subscription business Karzoom with his wife Melanie in May 2021.
From an initial strategy of helping retailers monetise their courtesy cars and demonstrators through daily rental, the business relaunched as a subscription offering – with ambitions of providing national coverage – late last year.
The shift was facilitated by a new insurance partnership with Zego.
Fazal said: "We are extremely pleased to be selected by Eden Motor Group to launch their car subscription service, further extending our market coverage with another customer focused AM100 dealer group. 
"Our partnership model enables dealers to deploy a fully supported subscription solution in a very short period of time, whilst also providing all of the required system functionality needed to meet both customer and dealer needs. 
"Combined with our unique insurance solution from Zego, plus outstanding customer service from Eden Motor Group, means that we can deliver a class leading subscription service to customers across these new regions of the UK and we are really looking forward to bringing this service live, with the launch date planned for the end of March."