BMW has launched a fleet of iX5 Hydrogen SUVs into its European markets as it steps-up its plans to diversify its alternative fuel vehicle (AFV) offering.
After four years of development work on the fuel cell electric vehicle (FCEV), the German premium car brand is deploying its fleet of around 100 vehicles for demonstration and trial purposes in a bid to share the benefits of hydrogen power as an alternative to plug-in electric vehicles (EV).
The 401PS SUV is capable of accelerating to 62mph in under six seconds.
BMW claims it is capable of a 313-mile range between fuelling trips for the model, which emits only water from its tailpipes.
Oliver Zipse, chairman of the board of management of BMW AG, said: "Hydrogen is a versatile energy source that has a key role to play in the energy transition process and therefore in climate protection.
"After all, it is one of the most efficient ways of storing and transporting renewable energies.
"We should use this potential to also accelerate the transformation of the mobility sector. Hydrogen is the missing piece in the jigsaw when it comes to emission-free mobility. One technology on its own will not be enough to enable climate-neutral mobility worldwide."
To date, Toyota's Mirai and Hyundai's ix35 and NEXO are the only hydrogen-powered production cars to be launched into the UK market, with the focus for hydrogen increasingly proving to be commercial vehicles.
Toyota recently unveiled a project which will lead to the production of a hydrogen-powered Hilux pick-up.
In November last year the Hydrogen Refuelling Infrastructure Working Group was set up by the UK Hydrogen and Fuel Cell Association (UK HFCA) to provide recommendations for future provision based on existing arrangements and international developments.
Celia Greaves, CEO of the UK HFCA, said: "Aside from the actual vehicle technology, the creation of a fuelling station network is essential to the market development of these new vehicles.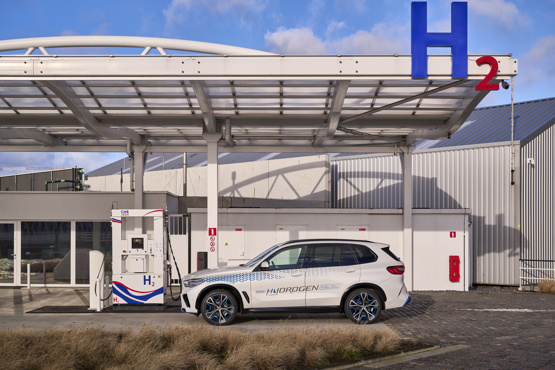 "At the moment there is a limited number of hydrogen refuelling stations (HRS) in the UK. These offer refuelling times similar to conventional petrol or diesel cars and we need to expand these networks so that, as we introduce more hydrogen vehicles to market, there is appropriate infrastructure for hydrogen fuel supply, distribution and sale.
"The UK is lagging behind other nations in its roll-out of hydrogen for transport and we need to accelerate progress."
BMW's iX5 Hydrogen was first unveiled as a concept at the IAA show in 2019.
BMW Group assembles the iX5 Hydrogen at its in-house competence centre for the fuel type in Munich, using fuel cells sourced from Toyota.
Around 900 people work at the facility's body shop, assembly, model engineering, concept vehicle construction and additive manufacturing.
The BMW Group sold more than 215,000 fully electric vehicles worldwide in 2022 – up 108% year-on-year.
By 2030 the German OEM wants full EVs to account for more than 50% its global sales.