The data are clear: the sedan is dead. Or is it? S&P Global
Mobility registration and loyalty data support both sides of this
discussion. First, let's look at the trends pointing to the sedan's
demise.
In Q3 2022, the latest quarter for which S&P Global Mobility
has complete data, sedan's share of the U.S. market dropped to
16.4%, down two percentage points from a year ago and seven points
from four years ago (as a reminder, each percentage point is equal
to total annual Cadillac registrations to individual consumers).
Sedan share of luxury has declined at a faster rate, retreating
more than nine points over the past four years to 23.3% in Q3
2022.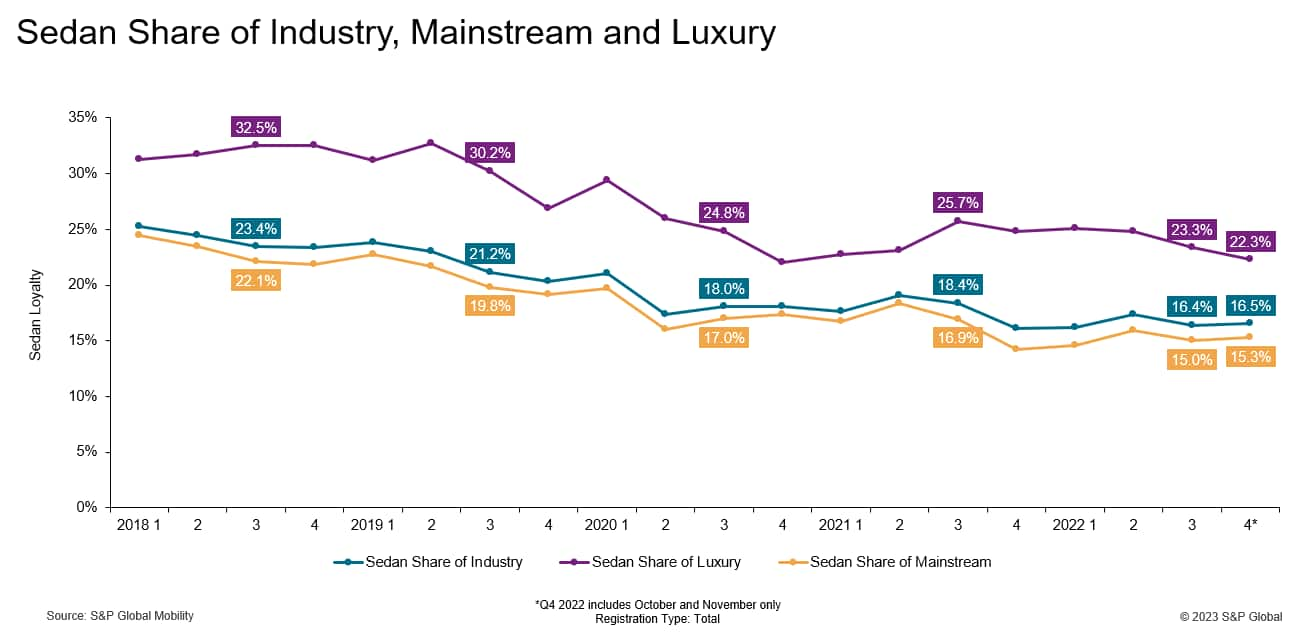 Loyalty to the sedan body style also suggests its days are
numbered. As illustrated below, the percentage of return-to-market
(RTM) sedan households who acquire another one has fallen to 36% in
Q3 2022, down over seven percentage points from 43.6% four years
ago. And, again, luxury sedans have suffered more than mainstream
sedans: the percent of luxury sedan households that acquire another
sedan has fallen more than eleven percentage points to 35.5%. Just
in the past twelve months, luxury sedan loyalty has dropped more
than six points. From 2018 through the start of 2022, luxury sedan
loyalty had consistently been higher than industry or mainstream
sedan loyalty, but these metrics all merged in Q3 2022 and have
remained similar in October and November.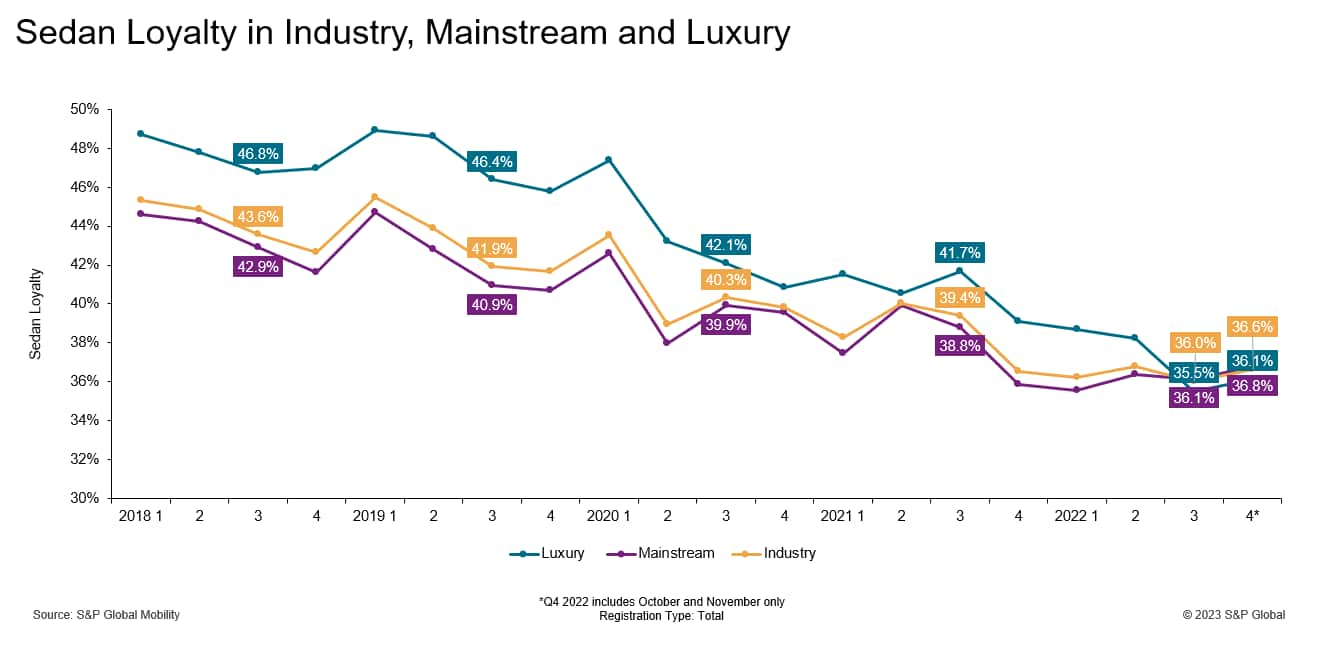 Third, the sedan's loyalty decline has not only mirrored that of
passenger vans (whose market share November 2022 CYTD is 2.1%),
sedan loyalty has actually dropped at a slightly faster rate than
the van decrease. As shown below, the slope of the line indicating
sedan body style loyalty is a little steeper than the slope of the
passenger van line*, and the table on the right includes the data
supporting this finding (amazingly, the total six-year declines of
the two groups are remarkably similar to one another, with sedan
down 14.6 percentage points and passenger vans off 13.7
points).
Lastly, the number of sedan models on sale has dropped sharply
over the past four years to just 28 mainstream vehicles (only three
of which are from legacy domestic brands). Admittedly, the luxury
sedan count has remained steady, but bear in mind that the luxury
market accounts for only about 17% of the industry.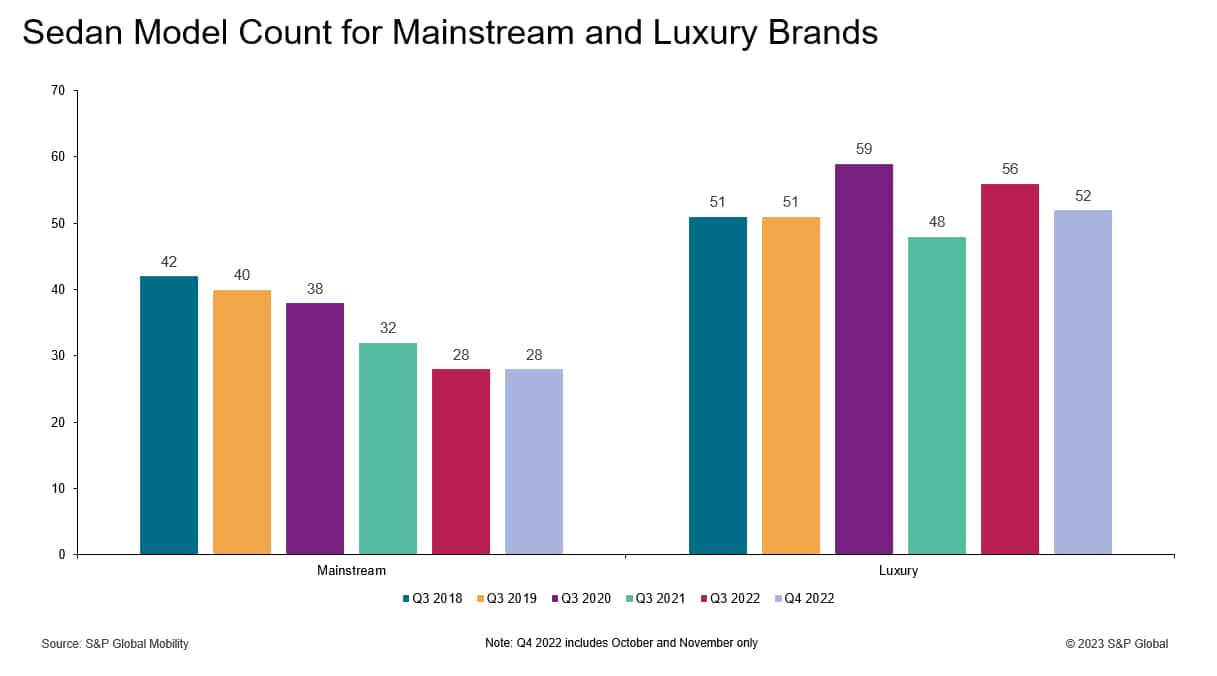 But there are at least two data sets suggesting sedans still
have some life left in them. First, a review of monthly sedan
loyalty since 2016 (see below) shows that sedan loyalty in the
first eleven months of 2022 has been going against the trend (of
the results in any of the other years) and is going up. November
2022 sedan loyalty of 37.4% was 2.7 percentage points higher than a
year ago.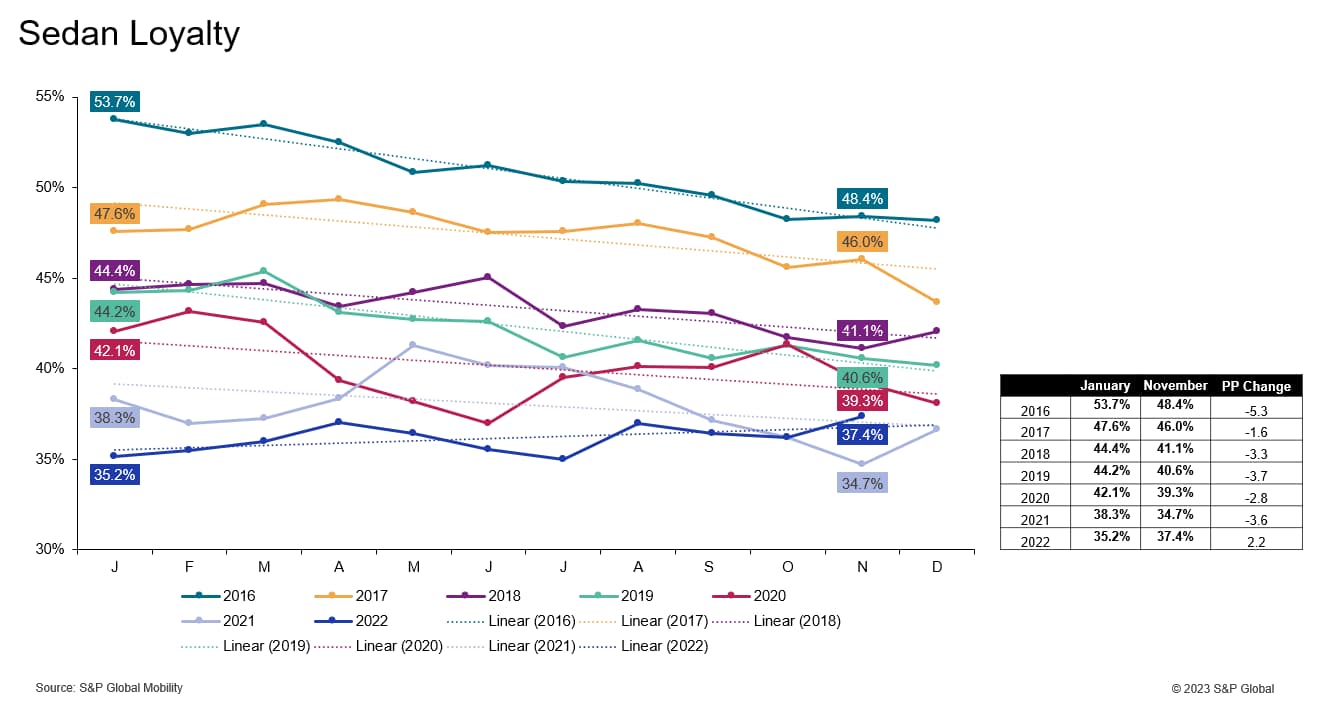 Second, a closer look at sedan loyalty in just the two most
recent years, reveals that this metric's pattern in 2022 has been
different from that a year earlier. Industry-wide sedan loyalty in
the January-November 2022 time period has been steady, in contrast
to the more uneven pattern a year ago.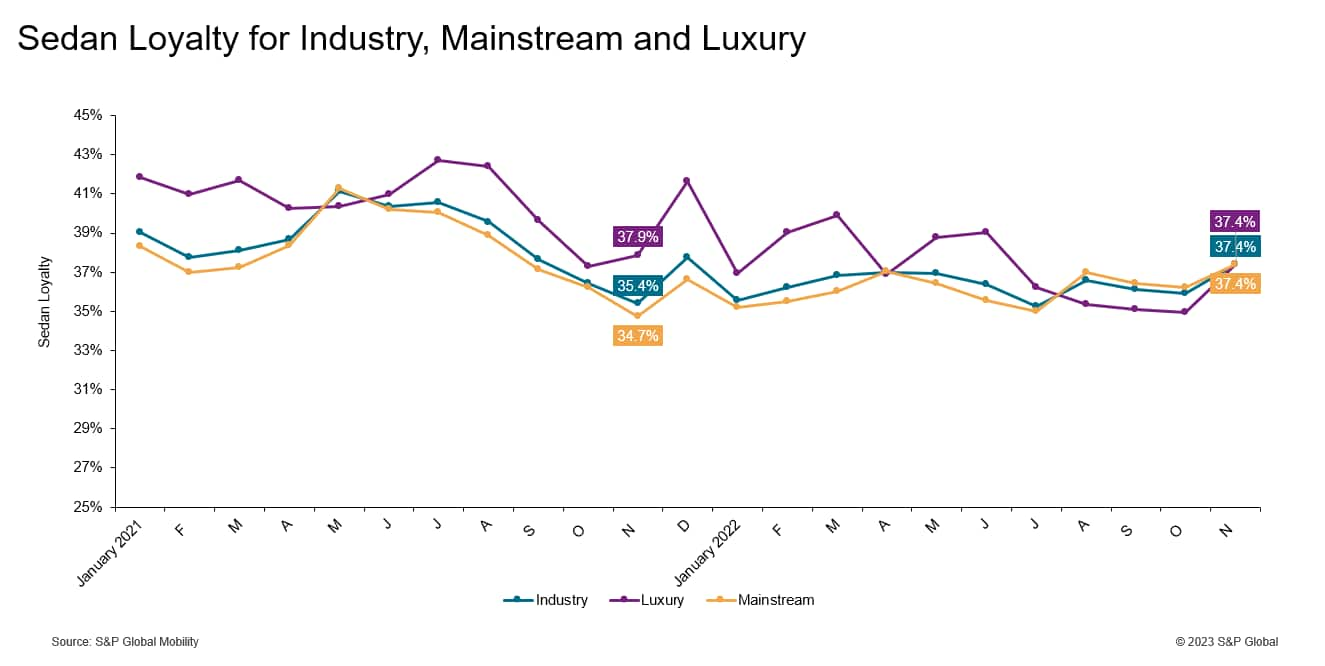 Regardless of one's opinion about the future of the sedan,
everyone is in agreement that this body style has been
marginalized. And, with this movement has come a similar decline in
couples and convertibles, which usually are derived from the
traditional sedan body style. But ingenuity remains alive and
kicking – we now are seeing more and more coupe derivatives of the
traditional sport utility body style (although convertible
utilities remain a work in progress).
*Passenger vans are used in this discussion, as opposed to
total vans, because the latter include vans used mostly for
commercial purposes.
—————————————————-
Top 10 Industry Trends Report
This automotive insight is part of our monthly Top 10
Industry Trends Report. The report findings are taken from
new and used registration and loyalty data.
The January report is now available, incorporating November 2022
CFI and LAT data. To download the report, please click below.
---
This article was published by S&P Global Mobility and not by S&P Global Ratings, which is a separately managed division of S&P Global.