The UK's used LCV market has got off to "a flying start" in 2023 as an easing of supply issues sees a glut of "pandemic worn condition" vans enter the auction halls.
Insight from Cox Automotive's Manheim remarketing centres revealed that the volume of LCVs passing through its halls reached a five-year high during January, with activity proving "strong from day one".
But the sector's stalled supplies meant that "pandemic worn condition" vans were also evident during January.
Vehicle age increased by seven months year-on-year to 70 months as average mileage hit 80,448 miles, with 42% of the catalogue entries recorded with an average 128,000 miles
Manheim said that three to five-year-old vans with an average of 66,000 miles accounted for 37% of the overall volume, however, achieving 111% of guide values.
The average selling price of van was £9,621 as Euro 6 compliant used achieved £12,788 amid the roll-out of London's expanded ULEZ and clean air zones in other cities across the UK.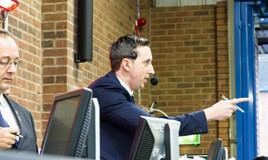 Matthew Davock, director of Manheim Commercial Vehicles, said: "A positive and very busy start to January has certainly been evident with many fleet, lease, rental and finance LCV volumes showing noticeable increases.
"This surge can be attributed to several factors, not least a number of fleets de-fleeting much earlier than normal due to reduced vehicle utilisation over the Christmas period, and the arrival of new electric and diesel vans.
"This correlates with the positive new registrations reported by the SMMT, with 25.8% more registrations than January 2022 and electric vans showing a 50% increase versus year on year."
Davock added: "Historically the van market wouldn't usually take off until mid-January, but this year it's been strong from day one, with 79% of vans selling first time in the first week of January, increasing to 83% by the close of the month – the strongest first-time conversion for 17 months."
"Wholesale LCV market is off to a flying start at Manheim and we predict this market will continue to show positive signs in Q1.
"That said, we always recommend being cautious of market seasonality, especially alongside the Euro 5 price alignment predicted for Q2 as more ULEZ and scrappage deal rollouts are planned to go live."