Auto industry observers more than once have commented that the
US luxury market really is two different markets, with Tesla in one
and the nineteen other luxury marques in the other. Here's another
finding supporting that observation: Tesla owners who return to
market are much more likely to acquire another electric vehicle
than owners of non-Tesla luxury EVs.
As the chart below illustrates, Tesla owners generally have been
substantially more likely to acquire another EV than owners of
competitive luxury EVs. In the 31-month time period from January
2020 through July 2022, an average of 65 out of 100
return-to-market Tesla households have acquired another EV.
However, the corresponding metric for non-Tesla luxury EV owners is
just 45%. If the abnormal results in March, April and May 2021 are
removed, the gap between Tesla and non-Tesla households increases
from 20 to 23 percentage points. (All cited data apply to
households that disposed of their original vehicle when they
acquired their new vehicle.)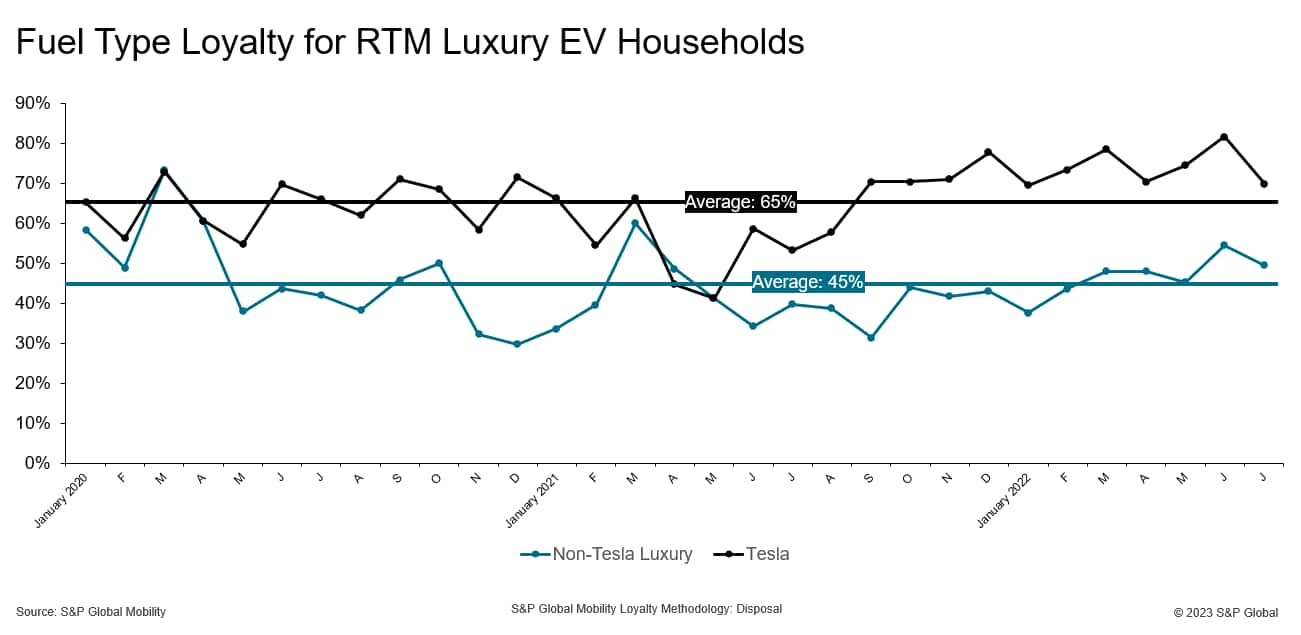 In the first seven months of 2022, Audi and Porsche had the
highest EV return-to-market volumes among non-Tesla luxury brands.
But their fuel type loyalty results were also the lowest. While a
little less than half of return-to-market Audi EV households
acquired another EV, only a third of Porsche households did so. The
luxury brands with higher fuel type loyalty had substantially lower
return to market volumes, with none reaching 200 households.
These findings point to at least two conclusions. First, Tesla
households' experiences with an EV in general are more positive
than the experiences of households owning a competitor EV. Second,
Tesla possesses yet another advantage over its EV competitors, at
least in the short term: A significantly higher mix of Tesla's
owners will at least stay with an EV (and possibly another Tesla),
in contrast to the competitor owners – more than half of whom
defect from the fuel type, and therefore (automatically) the model,
if not the brand altogether.
---
This article was published by S&P Global Mobility and not by S&P Global Ratings, which is a separately managed division of S&P Global.