The motor finance sector is expected to record a 6% rise in value despite supply shortages which "continued to weigh on its recovery" during Q4, the Finance and Leasing Association (FLA) has said.
The latest FLA market data shows that consumer car finance new business volumes declined 6% year-on-year to 165,379 in November as the corresponding value of new business decreased by 5% to £3.04 billion.
Geraldine Kilkelly, director of research and chief economist at the FLA, suggested that rising vehicle values would result in a positive full-year result in terms of value growth, however.
"The consumer new car finance market has reported lower new business volumes throughout much of the second half of 2022 as supply shortages continued to weigh on its recovery, Kilkelly said. 
"For the first time in more than a year the consumer used car finance market reported a fall in both the value and volume of new business."
But Kilkelly added: "Overall, the consumer car finance market is on track to report new business by value 6% higher in 2022 than the 2019 level, while new business volumes in 2022 are expected to remain 11% lower than pre-pandemic."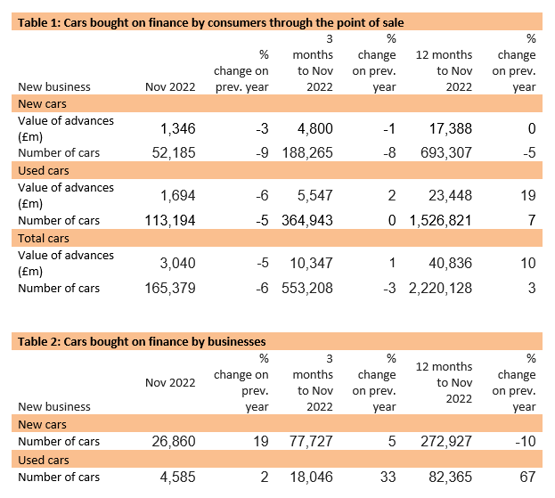 The new FLA data published this week showed that the new car finance market experienced a 3% decline in new business, to £1.35bn, and a 9% decline by volume, to 52,185 units, in November when compared with the same month in 2021.
Consumer used car finance delivered 6% fall in new business, to £1.69bn, and a 5% fall in volume, to 113,194 units, in November compared with the same month in 2021.
Full-year FLA motor finance sector data, set to be published in a month's time, will reflect December's growth for the new car market.
Society of Motor Manufacturers and Traders (SMMT) new car registrations figures for December revealed last week that volumes grew by 18.3% in the last month of 2022 as deliveries boom from Volkswagen making it the UK's best-selling car brand of 2022.