The average price of a used vehicle advertised for sale on Auto Trader rose for the 33rd consecutive month in December – reaching £18,030.
Prices declined 0.4% on November to reflect regular seasonal trends, but the march of ever-rising year-on-year growth continued unabated with a 3.4% year-on-year rise as limited vehicle availability continued to outweigh the pressures of the cost-of-living crisis.
The sector's continued stability came in a month that saw Auto Trader's pricing data used by the ONS to feed its measures of inflation, including the Consumer Prices Index (CPI).
It also follows Cap HPI data which showed that trade values declined 1.5% in December, with used electric vehicles (EV) continuing to decline more rapidly than the wider market.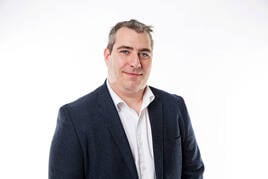 Auto Trader director of data and insight, Richard Walker, said: "Against a backdrop of political and economic turbulence, used car prices, and the market more broadly, has remained stable, which means we're starting 2023 in a robust position.
"And whilst the market won't be immune to financial instability, there's a range of factors unique to the automotive sector which should insulate it from some of the more extreme economic disruption predicted for 2023. This gives us a cautious but confident outlook for the year ahead."
Auto Trader's December data showed that the average retail price of a used car in 2022 was a record £17,548, up significantly on £15,204 recorded in 2021, £13,538 in 2020, and £12,999 in 2019.
EV depreciation pressures
The soaring cost of car buying has seen affordable superminis rise to the top of the sector's most appreciating used car rankings, with the Fiat Punto, Vauxhall Agila and Peugeot 107 the most in-demand cars of December 2022, according to Auto Trader's data.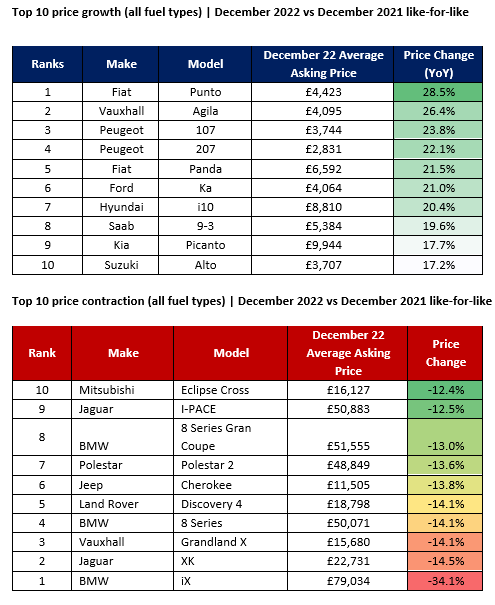 Amid reports that Tesla's Model 3 is suffering sharp depreciation due to rising levels of supply, three premium EVs were among Auto Trader's most depreciating vehicles, with Jaguar's I-Pace, the Polestar 2 and BMW's iX all suffering double-figure percentage declines.
Earlier this week Cap HPI's data showed that the trade value of EVs had suffered a record decline of 5.2% (around £1,625) in December.
Used EV values have now fallen 10.4% or (around £3,500) in the past four months, according to the data, with OEMs' prioritisation of zero-emission vehicle supplies and rising energy costs bot potentially playing a part in the shift in demand.
Auto Trader reported that consumer demand remained strong, with the volume of used car enquiries being sent to retailers increasing 27% year-on-year in December as visits to the online marketplace rose by over 10% YoY to nearly 61 million visits.
Auto Trader's data showed that used cars took an average of 29 days to sell in December, meanwhile, which is the fastest December since the start of the COVID-19 pandemic, taking a monthly average of just 29 days to sell.
This compares to a monthly average of 27 days in 2021, 31 in 2020, and 30 in 2019.
The fastest selling used car in 2022 was the Toyota Yaris Cross, which took an average of just 16 days to sell, Auto Trader said.