Ford has emerged as the UK's most popular van manufacturer in 2022, with more than a third of all new LCVs registered last year wearing a blue oval.
Its Transit Custom model remains a best-seller, having amassed 42,217 registrations in 2022, and is closely followed by the larger Transit van.
The market has faced a challenging year overall, with significant supply restrictions affecting all brands. Total registrations in the LCV market were down by 20%. Ford's LCV sales contracted by 12% during the same period.
"Throughout 2022 franchised dealers have reported strong demand for light commercial vehicles under 3.5 tonnes, but the continued restrictions to component supply have frustrated manufacturers in their ability to produce sufficient new vehicles to match orders", said Sue Robinson, chief executive of the National Franchised Dealers Association
Data from the Society of Motor Manufacturers and Traders (SMMT) shows that total LCV registrations fell from 355,380 units to 282,139 units, in a disappointing year for the sector.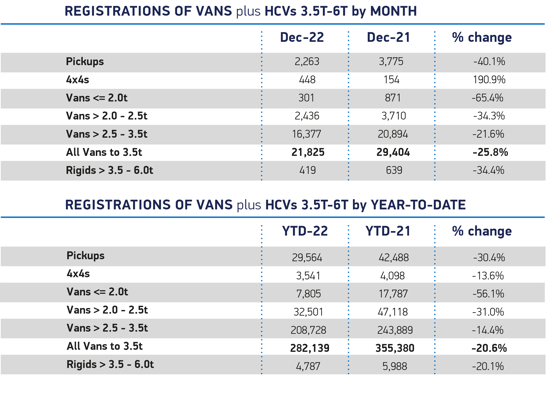 In contrast, the new car market was down by just 2% in 2022 and saw more than 1.6m new cars registered.
All commercial vehicle sectors experienced decline, from the sub-2.0t vans that are so often used as service vehicles (-65.4%), to the large LCV's 2.5-3.5 tonnes that dominate the market (-14.4%), which went from 243,889 units in 2021, to 208,728 in 2022. 
Battery Electric Vehicles (BEV) have jumped from 3.6% last year, up to 5.9% this year. There is an ever-increasing number of electric van models available for a broad range of use cases, however, uptake remains some way off the new car market, where BEVs comprised 16.6% of new registrations.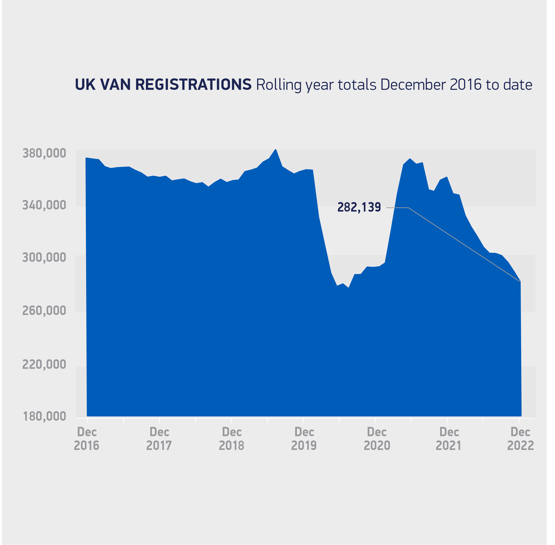 Mike Hawes, SMMT chief executive, said: "While demand for new vans remained robust throughout 2022, replicating last year's high levels of fleet renewal was always going to be a challenge with relentless supply chain disruptions and wider economic malaise.
"A return to growth is expected in 2023, but if this crucial sector is to deliver for the economy, society and the environment, action is needed from all stakeholders, particularly in the areas of charging infrastructure and fiscal frameworks, enabling more van buyers to make the switch."
The reduction in new van registraions is continuing to inflate the values of used models, as buyers struggle to acquire sufficient stock.