Sandicliffe Group MG dealership staff were left "shocked" but unhurt after a Citroen MPV crashed through the glass front of its newly-refurbished showroom.
CCTV footage from the dealership on Derby Road, Loughborough, shows the moment the vehicle careered across the forecourt before colliding through the glass and into display vehicles in the incident, which is said to resulted in £60,000-worth of damage.
One of the cars damaged in the collision was a brand new MG4 electric vehicle (EV) worth £32,000, while the other was an ZS EV SUV worth £31,000.
The drama unfolded just before 10am on Monday (December 5) and came just days ahead of a planned grand reopening of the MG franchise following its recent upgrade works.
Sandicliffe chief executive Paul Woodhouse, who was on site at the time, said he was "so pleased" no one was injured and "so proud" of how dealership staff reacted in helping the lady who had driven her Citroen C4 Picasso into the building.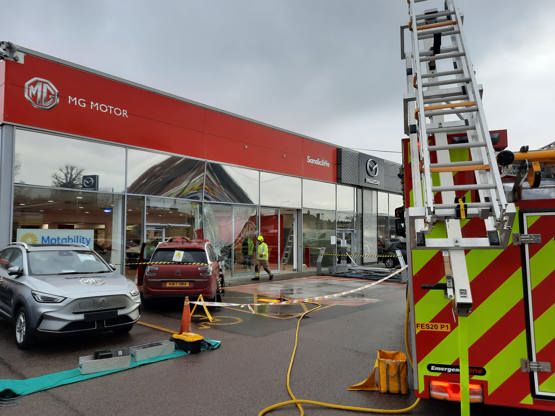 Commenting on the incident itself, Woodhouse said: "I felt the building shake even though my office is on the first floor and close to 75 meters away. When I got to the MG showroom there was broken glass and bits of the building strewn all over our new showroom.
"Having subsequently seen the security video footage I am just so relieved nobody was in the immediate vicinity because things could have been so much worse.
"Vehicles and buildings can be repaired, it is great that no one was injured. Our thoughts are with the driver, we hope she is well."
He added that it was "certainly not a usual Monday morning" but said thew the MG and Nissan businesses – while boarded up – are open as usual.