Roadside Garages Kia has been named the National Garage Star in The Motor Ombudsman's 2022 Star Awards as fellow car retailers Glyn Hopkin, Hayselden and Listers all claimed regional awards.
The family-owned former AM Best Dealerships to Work For winner in Coleraine, Northern Ireland, gained the top award after judges recognised its relationship with customers and dedication to sourcing new vehicles and reducing lead times.
Around 1,500 customers nominated Motor Ombudsman-accredited businesses and individual team members in this year's Star Awards, the highest ever volume of entries since its launch in 2020.
David Boyd, director of Roadside Garages Kia, which was Highly Commended in the AM Awards 2022's Best In Customer Service category said he was "thrilled" with the trophy.
He added: "Our team is immensely proud of our success, and our fast-expanding trophy cabinet is testimony to our long-standing ethos of going beyond what would ordinarily be expected of us, whilst adopting an individual and personal approach so that our customers always feel like a valued member of the Roadside family.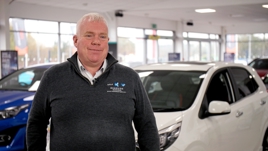 "We are very grateful to those who put our name forward in this year's contest, and we look forward to welcoming them back to our showroom as The Motor Ombudsman's National Garage Star for 2022." 
Bill Fennell, chief ombudsman and managing director of The Motor Ombudsman, said: "This is the third year that we have run our Star Awards, and it has been very exciting to see the buzz that they have created, and to see more customers and businesses engaging with the competition than ever before."
The Motor Ombudsman's eight regional Garage Star Award winners for 2022, selected by its judging panel, were: 
North: David Lloyd at Hayselden Volkswagen Barnsley for his excellent communication skills when supporting customers looking to purchase a new vehicle.
South: N.R.P Autocentre in Sheerness for going the extra mile to support customers with a home vehicle collection and delivery service.
East: Glyn Hopkin in Colchester, for going above and beyond to deliver a positive and welcoming experience for customers when bringing their car in for routine and ad hoc maintenance.
West: Okee Car Service Centre in Wellington, for doing all they can to diagnose faults and save customers from having to pay for unnecessary repairs.
The Midlands: Jagmaan Choudhary at Listers Honda Solihull, for keeping customers fully up to date with new vehicle orders, and for arranging home deliveries when needed.
Northern Ireland: Roadside Garages Kia in Coleraine (County Londonderry), for their ongoing relationship with customers, their dedication to sourcing new vehicles and reducing the lead time to as short as possible, whilst also going above and beyond to deliver excellent customer service.
Scotland: W Livingstone Ltd in Glasgow for providing roadside repairs to customer vehicles at no charge; and
Wales: Terry's Auto Repairs in Wrexham for organising same-day off-site vehicle collections and deliveries for customers. 
A third Customer Service Star Award category for the head offices of Motor Ombudsman-accredited dealer, garage and body repair centre groups, was also introduced for 2022. This was won by Protyre.
The Customer Service Star Award for vehicle manufacturers accredited to The Motor Ombudsman's New Car Code went to Honda UK, meanwhile, with Timothy Ellis at Car Care Plan named awarded the 2022 Customer Service Star trophy for Vehicle Warranty Product Code-accredited businesses.