Arnold Clark's bid to acquire Yorkshire based franchised car retailer Car2 has ended after the two businesses were unable to strike a deal.
Negotiations between the Scottish car retail giant and the recent addition to the 2022 AM100 rankings failed to reach a positive resolution as expected this week as the two parties fell short of reaching a financial agreement.
Staff at £124.2 million turnover Cars2, which represents Hyundai, Fiat, MG, Nissan, Renault/Dacia and Seat at 13 sites in Barnsley, Bradford, Huddersfield and Wakefield, had initially been informed of the potential takeover at the start of November.
Speaking to AM this morning (November 30), however, Arnold Clarke chief executive Eddie Hawthorne confirmed: "In the end we just couldn't settle on the numbers".
Cars2 managing director Allan Otley said the two businesses had concluded their talks in amicable fashion, adding that he had "huge respect for Arnold Clark" following negotiations.
And he added that he was excited about the future prospects for the Cars2 business, which is still driving hard for growth.
"I'm extremely excited about the future," Otley told AM. "We had been going down the line with Arnold Clark but it was just the case that, at the end, we couldn't reach an agreement.
"I have huge respect for Eddie and Arnold Clark but when you've built a business from scratch like I have, and you look around and try to value all that you have, it can prove a challenge."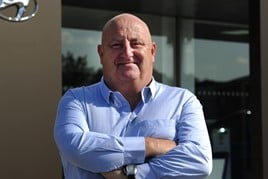 In an AM dealer profile interview with Otley, he described how it had taken 13 years to transform what was a solus independent used car forecourt on Pontefract Road, Barnsley, into a cash-rich franchised retail group with aspirations of becoming a £250m turnover business while maintaining its return-on-sales (RoS) figure of more than 3%.
Earlier this month the group entered the AM100 for the first time, joining the rankings of the UK's biggest car retail groups by turnover in 99th place.
Speaking to AM today, Otley said that he remains 100% focussed on growing the business and has dealership additions "in the pipeline".
He said: "Of course the events of recent weeks have been a little disruptive, that's always going to be the way when there's due diligence going on, but now it's very much a case of 'onwards and upwards'.
"We're a cash rich business and we're in a great position to continue our growth."
In May Hawthorne reported an "excellent" 2021 financial performance for Arnold Clark, with revenues up 25% to £4.7 billion (2020: £3.8bn) as profit before tax rose 68% to £263 million (2020: £156.5m).
Hawthorne later told AM that Arnold Clark was looking on-track to deliver its second-best financial year ever in 2022, despite the market headwinds and its exit from the Toyota and Ford franchises.