Rising new car registrations from Volkswagen, Ford and Toyota suggest carmakers are starting to learn to deal with the impact of semiconductor shortages on their manufacturing operations, according to Jato Dynamics.
The Volkswagen Group's Audi, Skoda, and Cupra helped it to a 40% volume increase – a year on from the supply shortages' peak – as Toyota grew its volumes by 47% and Ford by 35% as the sector delivered its third consecutive monthly uplift in registrations in October.
Overall registrations grew by 14% registering 903,533 new vehicles.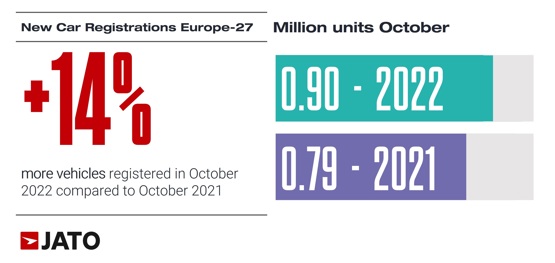 Despite VW's 230,115 units being considerably lower than the 281,700 units registered in October 2020, and around 302,000 in October 2019, Jato's global analyst Felipe Munoz suggested the uplift was a positive step.
"In October 2021, the market was facing the worst of the semiconductor crisis, but one year on, it has understood the challenge and is learning to deal with it", he said.
Damage of shortages
Signs of the European new car market's recovery in August, September were not enough to arrest a year-to-date decline in registrations, however. The period's 9.1 million units represent an 8% decline on the same period in 2021.
Munoz said: "The impact of the shortage of new cars at dealerships, alongside economic and geopolitical uncertainty, have been more damaging to sales volumes than the lockdowns of 2020. As OEMs adapt to this new reality, consumers are also understanding that they face longer waiting times than they used to for new cars."
Peugeot's 208 hatchback topped Europe's best seller rankings in October and tops the charts with its year-to-date performance, beating the Dacia Sandero.
Volkswagen Golf volumes recovered last month, rising by 96%, but Jato believes the 208 is now likely to dethrone it as the region's best selling car for 2022.

Volkswagen's ID.4 and the ID.3 succeeded in leading the electric vehicle (EV) registrations rankings, however.
By contrast, registrations of the smaller ID.3 declined 3% in October, and are now down 41% to 34,320 units year-to-date.
The Fiat 500e, which is soon to be joined by the performance-focussed Abarth 500e, was the third best-selling EV.
The Polestar 2 was the best-selling premium EV in October, ahead of the Tesla Model 3 and BMW i4.
Chinese potential
October was a record month for MG as the Chinese manufacturer registered more than 12,000 new vehicles – an increase of around 150% on last October's 4,800.
The brand recently launched an updated version of its MG5 EV estate car and is now marketing its MG4 EV on TV and online after its September launch.
Munoz suggested this was proof of the potential popularity of Chinese vehicles in Europe at a time when new entrants including Great Wall's Ora brand, NIO and BYD are poised to claim a slice of the market.
Commenting on MG's success, Munoz said: "This success is explained by introduction of more appealing products, particularly their electrified range, at competitive prices. MG is proving that with the right offering, Chinese manufacturers can succeed in Europe."