A collection of classic cars from BMW and Minis' past took centre stage as Dick Lovett Group officially opened its new premium car dealership in Melksham.
Vehicles loaned to the new facility by the AM100 retail group's chairman, Peter Lovett, were among 23 classics given the red carpet treatment along with 500 VIP guests at the opening event last weekend.
A BMW Z1 roadster and the BMW Z8 known to many due to its appearance in the James Bond movie The World is not Enough lined-up up alongside a Morris Mini and a rare Mini pick-up in the new facilities sprawling aftersales facility.
Inside the newly created showroom, meanwhile, modern display cars including the new BMW i7 electric vehicle (EV), BMW M4 and Mini John Cooper Works were among the stars of the show.
Dick Lovett's launch event follows the competition of its move from its previous BMW/Mini retail site on Lower Bristol Road, Bath, to the new facility at Portal Road, Bowerhill, Melksham.
Its former showroom in Bath is set to be transformed into housing and student accommodation.
The new site, near the Jaguar Land Rover (JLR) dealership it opened beside the A350 in 2017, features and 11-car BMW showroom and an seven-car Mini display.
The new design also increases the franchised workshop's space from 21 bays and two MOT bays to 27 bays and two MOT bays, while the number of valet bays has increased from six to eight.
Leon Vitti, head of business at BMW/Mini Melksham, said: "Our brand-new showrooms feature BMW and MINI's latest 'Retail Next' showroom concepts, and a 29-bay workshop complete with a state-of-the-art wheel alignment facility.
"Both our BMW and Mini showrooms are equipped with the latest models, technology, catered lounge bar facility, customer business suites and so much more.
"Looking to the future, our new centres are fully sustainable including a full PV solution to produce energy for the site.
"With the move towards all-electric motoring, we're delighted to share that our new centres feature a comprehensive vehicle charging solution."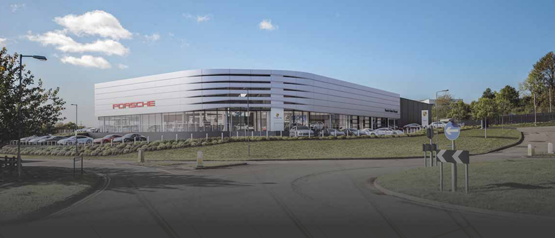 Earlier this month AM reported that planning officials at Newport City Council had given the green light for Dick Lovett's new flagship Porsche Centre in South Wales.
The showroom development in Celtic Springs Business Park, just off Lakeside Drive, Coedkernew, near Newport, could create 80 new full-time jobs and 20 part-time positions.
In July the group revealed that its had successfully overcome a fire at its JLR dealership in Melksham, COVID-19 lockdown and the global car supply slowdown to deliver record financial results in 2021.
The Swindon-based group's turnover exceeded £650 million mark for the first time, rising 16.5% to £659.9m (2020: £566.2m) as its pre-tax profits climbed 66%, from £14.7m to £24.4m in the 12-month period to December 31, 2021.