Geely and Renault have signed a non-binding framework agreement that could see them team-up to produce the internal combustion engines (ICE) of the future.
While carmakers across the globe are being encouraged to switch to a future of elelctric vehicles (EV), with the UK set to ban the sale of non-electrified new cars in 2030, the Chinese and French OEMs have set a new course to manufacture and supply hybrid powertrains and highly efficient ICE powertrains for years to come.
Under the framework agreement, revealed during a Renault Group Capital Market Day in Paris, Geely and Renault Group will hold respective 50/50 equity stakes in the new company.
The new company would supply brands including Renault, Dacia, Geely Auto, Volvo, Lynk & Co, Proton, Nissan and Mitsubishi with engines and could also offer powertrain technologies to third-party brands.
Geely said that the new company planned to operate 17 powertrain plants in three continents, employing around 19,000 people and offering a combined capacity of over five million internal combustion, hybrid and plug-in hybrid engines and transmissions per year.
It believes its product portfolio and regional footprint has the potential to offer solutions for 80% of the global ICE market.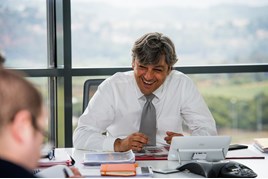 Renault Group chief executive Luca de Meo said: "As Renault Group accelerates with its Renaulution transformation to capture value on the entire new automotive value chain, we are pleased to have agreed plans for an ambitious partnership with Geely to keep developing the ICE and hybrid engine technologies that will remain a critical part of the automotive supply chain for decades to come.
"We'll be able to offer best-in-class powertrain and electrified solutions to multiple OEM brands worldwide, unleashing the market potential for this low emission technology."
Geely Holding Group chairman Eric Li said: "Today's agreement with Renault Group will enable the creation of a global leader in hybrid technologies to provide highly efficient advanced solutions for automakers around the world."
Last month European Union legislators agreed a deal that would require all new cars and vans to be zero-emission as of 2035, becoming the first of its 'Fit for 55' package of emissions-cutting measures to be agreed upon by member states.
Also announced at this week's Renault Group Capital Market Day were the OEM's plans to launch a new Ampere division focussed upon the production of EVs which will employ around 10,000 staff.
As with its new ICE engine company, Renault plans to invite investment in Ampere but would remain the majority shareholder.