Another near doubling of new car registrations from Ford was led by the doomed Fiesta hatchback during October, Society of Motor Manufacturers and Traders (SMMT) data shows.
The blue oval delivered 94.7% more cars than in October 2021 last month to lead the market with 13,295 registrations, with the long-time hatchback favourite leading the best-selling car rankings with 4,230 units.
It meant that the Fiesta – facing the axe from the brand's model line-up in 2023 – made the difference as Ford accelerated ahead of market rival Volkswagen with 108,072 registrations year-to-date, versus 104,975 for the German OEM.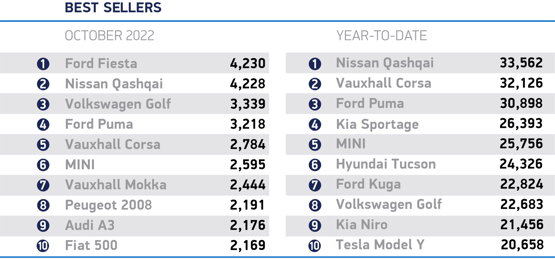 Despite falling behind Ford – up 1.9% year-to-date – Volkswagen grew its October registrations by 41.5%, to 12,804 units, in October but remains 19.5% down year-to-date.
Several carmakers grew their registrations volumes by over 100% last month as the sector delivered 26.4% growth on a bleak October 2021 which experienced a 24.6% year-on-year decline.
Cupra was up 104.9% to 1,543 units, Land Rover 103.4% to 3,275, while MG continued its march to growth with volumes up 103% to 4,749 units.
The VW Group's fastest-growing brand continues to deliver significant growth following the launch of its Born electric vehicle (EV), which is currently the subject of a long-term road test by AM editor Tim Rose.
Its growth appears to be coming to the detriment of sister brand Seat, however, which suffered a further 38.4% decline (to 1,532 units) in October to leave its annual registrations down 54% at 18,463 year-to-date.
Cupra's year-to-date registrations are now up 94.4% at 12,016, with an identical 0.9% market share to VW brand Porsche, which has seen its registrations rise 35.8% to 13,155 in the same period..
Among the key year-to-date market share winners are: MG, at 3.2%; Tesla whose sales have risen 45.4% to 32,229, resulting in a market share of 2.4%; Kia, up 9.3% YTD to 89,146, to deliver a 6.64% share; and Hyundai, up 19.5% YTD at 69,757 with a market share of 5.2%.