Vertu Motors has become the UK's largest BMW Motorrad motorcycle retailer with the £4.2 million acquisition of two Yorkshire dealerships from Saltaire Motor Company, trading as Allan Jefferies.
The deal, announced via the London Stock Exchange, comes almost 12 months after the AM100 PLC joined the German premium brand's retail network through the acquisition of 12 BMW, Mini and BMW Motorrad franchised motor retail outlets across five locations from Inchcape's Cooper BMW division.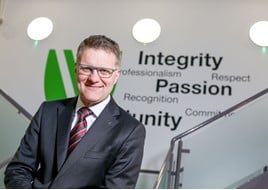 Commenting on the addition of the BMW Motorrad franchise points in Shipley, near Bradford, and Rotherham, Vertu chief executive Robert Forrester said: "Our business is performing strongly and the addition of two further BMW Motorrad outlets will be accretive both financially and strategically to the Group. Vertu becomes the largest partner in the UK for BMW Motorrad."
In the full year 2021, BMW Motorrad was the UK market leader in the big bikes category with a 16.6% market share.
Vertu currently operates one Motorrad outlet in Sunderland, acquired as part of the Inchcape deal in 2020.
Paulo Alves, the head of BMW Motorrad UK and Ireland, said: "We are delighted to support the acquisition of the excellent Allan Jefferies business in Yorkshire by Vertu.
"The Jefferies family have built a fantastic operation and we are confident that the business will be in good hands.
"As a leading brand, our customers take priority and we share this philosophy with Vertu.
"We welcome them as our largest partner in the UK."
Allan Jefferies has been trading as a family-run business, spanning four generations over 120 years, since 1901 and has represented the BMW brand since 1971.
Following the acquisition by Vertu, its BMW Motorrad dealerships in Shipley and Rotherham will both be rebranded to trade under the Vertu brand.
They will form part of a Vertu Motorcycles division which now operates six motorcycle outlets with BMW Motorrad and Honda.
Vertu's statement said the Allan Jefferies business had achieved revenues of £20.5 million and an operating profit of £463,000 in its financial year to September 29, 2021.
The business has been acquired for a total consideration estimated at £4.2m, subject to finalisation of completion accounts, and includes a freehold property value of £1.85m and a payment in respect of goodwill of £0.5m.
Vertu said: "Due to the seasonality of motorcycle sales, the Business is expected to contribute a small loss for the remaining four months of the financial year and is expected to be earnings enhancing in its first full year of ownership."
Last month Vertu Motors chief executive Robert Forrester said his business could grow "anywhere at any time" after revealing H1 results which suggest it is scaling the AM100 rankings.
A first half trading update from the PLC behind Vertu Motors, Bristol Street Motors and Macklin Motors revealed adjusted profit before tax of £28.2 million (H1 FY22: £51.8m) on revenues up 3.9% at £2bn.