One thing is certain whether you are an
evangelist or taking a more conservative approach; nobody can stop
talking about EV.
Timing aside, saying the EV transition delivers
a fundamental, tectonic shift in the automotive marketing world is
not hyperbole. OEMs – old and new – are working with a clean slate
in how to design, source, build, sell and service EV models.
These impacts on marketing investment and
communications planning are significant. New vehicles, new customer
types, and new ways to order, purchase, and service a vehicle are
all combined with the growing importance of lifetime customer
value, providing a clean slate approach to marketers and their
partners.
And it's in this space – with these new
customer types, motivations, and buying styles – where Polk
Automotive Solutions is responding by building a new audience
taxonomy specifically for EV marketers.
Helping brands connect with these new
customers
Polk Audiences has crafted over 150 EV segments – spanning owners
and in-market shoppers – that allow marketers to target the
segment, make, and model level (Figure 1).
Fig. 1: Polk Audiences EV segments
increase nearly 4x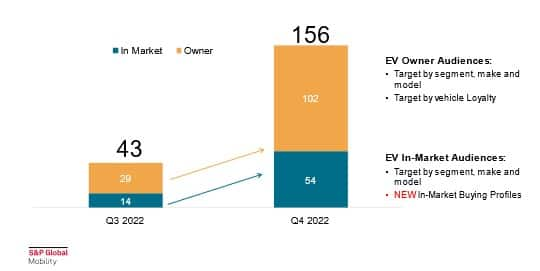 Utility migration will play a
significant role in the transition to EV
Loyalty to the SUV body style is growing at an all-time high of
74%. And for the first time, more car owners are buying a utility
(47%) instead of another car (42%)
• EV model count to approach 200 in 2026 and 300 in 2030 (Figure
2)
• 60% of new EV models will be utility
• Utility is the one segment where nearly every mainstream and
luxury brand compete
These new product launches will dominate
marketing investment, pushing EV shoppers to retail locations
online and in dealerships.
Fig. 2: EV model count by
segment
Making an EV Audience
Taxonomy
To build these segments, Polk Audiences utilized the industry's
most robust data sets and true EV modeling expertise,
including:
Historic buying patterns

The entire history of buying patterns, including attributes
around purchase frequency, loyalty, and purchase styles at the
brand, segment, and model level
Sales and registration data by fuel type and vehicle disposal
behavior

Financial profiles/Lifestyle triggers

Lease expiration, monthly payment, household income
Life stage, credit profile, household size

Complete garage view

What other vehicles does the household own, and are they
migrating to different segments or fuel types?

New buying behaviors (Figure 3)

EV in-market shoppers that are replacing a vehicle or adding a
vehicle
Fig. 3: EV in-market buying
profiles
Marketing impact as EV sales grow
With an influx of new vehicles and customer types coexisting with
current and existing models, the competition for customer attention
— particularly in the utility segment — will be fierce. As
a result, the importance of investment in marketing technology and
customer relationship management (CRM) programs is growing and, in
many ways, is now a more critical, strategic decision than media
investment and placements.
Consumers expect customization and targeted messaging from brands.
Now is the time for auto marketers to fortify their CRM assets and
strengthen their EV audience development strategies to build
customer connections that deliver results.
Learn more about our EV
segments
---
This article was published by S&P Global Mobility and not by S&P Global Ratings, which is a separately managed division of S&P Global.