Stellantis UK is set to adopt a contiguous market area-style network plan to streamline its franchised dealer relationships, with the loss of 138 of its 918 franchised sales points.
The new approach is part of a wide reorganisation at Stellantis UK, including a reshuffle of senior management, and greater centralisation of support services which will give retailers a single point of contact for sales operations across the Stellantis group brands they may represent.
Lee Titchner, network development director at Stellantis UK told AM the days of each brand having differing strategies for franchised partners are being left behind, and the one common strategy is to have "mutual dependency", which means the dealers which remain franchisees will be encouraged to increase their representation.
"We need to be important to retail partners, and they need to have the scale to be important to us too," Titchner added.
The franchisees at Stellantis's brands – Abarth, Alfa Romeo, Citroen, DS, Fiat, Jeep, Peugeot and Vauxhall – were all issued a two year notice of contract termination in May 2021, and Titchner said the 138 cuts to the dealer network will be done by May 2023.
It will reduce the number of franchise investors from 219 to 176. He could not rule out further network changes, however, and said the plan is always being revisited.
Senior retail group sources have told AM that Vauxhall, whose network remained the largest as terminations were issued with more than 200 sales points, will be the brand which receives the major share of the reductions.
Stellantis will encourage multi-brand representation from the retail partners which remain, either in shared sites or certainly within the same market area, to enable its dealers to gain operational efficiencies while also making sure the carmaker can support franchisees more cost effectively, more consistently and make faster decisions. 
Titchner said the group has an ambition for 20% market share (car and van) by 2025, which he said is quite a compelling proposition for the investors which will move forward with it.
Brand centres
Paul Willcox, group managing director of Stellantis UK, told AM that the reorganisation plan has been done with the "foundations of sustainability and viability" in mind, and the partners which will continue with be stronger as a result, and the majority of those cut have been chosen due to the level of customer experience.
The aim will be for sites holding mainstream brands to achieve 1.2% return on sales on average, and those with the premium Alfa Romeo and DS brands to achieve 1.5% to 1.8%
Willcox said he wants the gap in performance that he currently sees in its networks to be reduced, both in terms of quality and profitability. "It's too wide today," he added.
"If we're moving towards a network that is regionally based we can drive a more consistent experience in the business. It should make us an easier business to work with, by reducing the complexity," Titchner added.
Although multi-branding is being seen as a solution for representation, Willcox said each individual brand's experience will be everything.
Since the merger of Fiat Group and PSA Group in 2021 into the new entity that is Stellantis, multi-franchising has already become more common between group brands, particularly as many of the individual brands, such as Vauxhall and Fiat, have lost market share over the past decade.
Even the manufacturer-owned retail group, now known as Robins & Day by Stellantis For You, now has some major sites where Abarth, Citroen, Fiat and Peugeot are all retailed beneath the same roof, albeit still with distinct corporate identities and showrooms.
Asked whether in the years ahead UK consumers would be able to visit Stellantis brand centres representing all franchises, Titchner said it is a possibility where the opportunity was right for it, but there would be very few.
Internally, such a concept is being called 'Stellantis House'; Titchner said this is not a brand however.
While multi-branding has helped some AM100 dealer groups grow with Stellantis, a few have taken the decision to end their partnerships. JCT600 revealed to AM earlier this month it would cease to retail Vauxhall, Peugeot and Citroen new cars, and last year Peter Vardy closed its six Vauxhall dealerships in Scotland and reopened them as multi-brand used car outlets. 
Management reshuffle
By January 1, 2023, a new management structure at Stellantis UK will be in place.
DS and Alfa Romeo will be paired into a newly created premium division, headed by Julie David (pictured right), currently the managing director of Peugeot UK.
In this new role, she will oversee the first adoption of agency contracts for Stellantis, as DS and Alfa's new contracts come into effect in May 2023, and David is also tasked with delivering an "elevation of the customer journey" to ensure the brands and their retailers provide the experience a premium brand buyer would expect.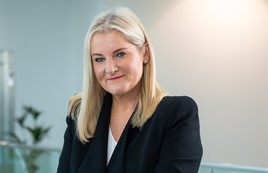 Current Alfa and Jeep UK head Damien Dally will become the managing director for Fiat and Abarth, while Jules Tilstone will move from his current DS leadership role to head Jeep.
Vauxhall's marketing director Adam Wood will be promoted to managing director of Peugeot UK, and James Taylor, currently acting managing director at Vauxhall where he is already fleet director, will be confirmed as Vauxhall's permanent managing director.
With current Fiat boss Greg Taylor moving into the managing director role at Citroen UK, Eurig Druce will take the new role of director of network operations for Stellantis UK, leading the newly centralised team responsible for working on a multi-franchised regional basis on sales and aftersales development.
Customer experience and quality will also become a group office function, focusing on all brands, led by Stephanie Howson, currently retail sales director with Vauxhall.
Group van division
Van sales will get extra focus, through a new LCV division of four brands (Vauxhall, Peugeot, Citroen and Fiat vans) headed by LCV business director Richard Chamberlain, and retailers will be given LCV franchises separate to the car sales contracts for the first time in the shift to agency model, meaning "we have partners who want to have LCV rather than just having it", said Titchner.
A group role responsible for used cars and remarketing will be announced in due course, and the current group office management remains unchanged, with Faraz Ghani responsible for customer management, Titchner remaining head of network development, Mark Pickles leading parts and service, Jeremy Townsend heading communication and events, and Daniel Altes responsible for finance.
Willcox reiterated that the desire is to reduce complexity, simplify programmes and policies and to increase the standard and consistency of Stellantis's communication with its retail partners.
"We have a significant electrified product offensive in the coming years placing us well ahead of the UK Government's mandate for zero-emission vehicles.
"Our new management structure for our UK operations prepares us for the future and leverages our core strengths.
"We anticipate significant opportunities for our retail partners through this restructure with a clear strategic direction," Willcox added.
The changes come in line with the Dare Forward global plan which Stellantis chief executive Carlos Tavares revealed earlier this year.
Across Stellantis UK brands, there are 20 battery electric vehicles (BEVs) now available, plusanother 20 to be launched in the medium term.
It will fully electrify all its brands' products ahead of the 2035 UK mandate, starting with DS and Fiat in 2025, and it aims to achieve net zero carbon emissions through the entire value chain by 2038.