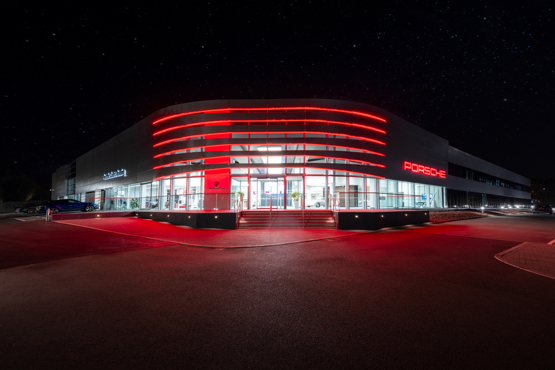 Porsche Retail Group's Porsche Centre Reading dealership has been re-developed as the UK's first Destination Porsche location, meeting a new corporate identity for the sports car brand.
The new concept reflects the changing landscape of automotive retailing, bringing together the online and physical sales channels, the recently-floated German sports car specialist said.
Porsche said the Destination Porsche concept evolves the Porsche Centre from a point of sale into a point of brand experience. A pilot of the new corporate identity started in Germany, in 2019.
"With the new 'Destination Porsche' retail concept, we are responding to changing customer needs," said Marco Schubert, vice president region Europe at Porsche AG.
"Our broader model range is inviting new visitors through our doors, and we need to adopt a flexible approach to support their needs.
"On top, the wish for individualisation by owners means a higher degree of personal customisation than ever before. Add to this our rich history and our long tradition in motorsport, we have many stories to tell; so we are designing our Porsche Centres to be meeting places for customers, friends and fans."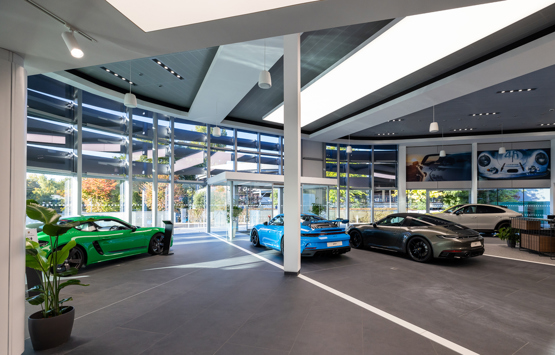 The architectural theme uses structures familiar from current Porsche Centres whilst a mix of new exterior design features and an evolution of familiar elements have been added.
The Reading showroom has more than doubled in area to over 2,000 square metres. This allows up to 31 cars to be showcased, including Porsche Approved pre-owned examples. Work to convert the site began in 2021.
It is distinguished externally by distinctive red swathes in its exterior aluminium façade. Inside, the new showroom environment immerses the visitor into the brand experience. Without any noticeable barriers, the reception zone and customer lounge merge into one.
A new, large glass window partition provides a view from the showroom into the workshop and allows the Aftersales area to become part of the showroom. The Service department has been expanded with the addition of six new ramps in a workshop extension, bringing the total to 18, which increases capacity notably for Porsche Classic projects.
Two Direct Dialogue Bays are provided, designed to allow a 1:1 walkaround of a car guided by the technician. In this way, customers can be briefed on the condition of brake pads, wheels and tyres, bodywork, and receive a diagnostic check which helps prepare a scope of work ahead of any repairs being undertaken.