No-haggle pricing, direct-to-consumer, agency model – there are
OEM announcements about new retail concepts almost every week, and
often referenced in an EV context. But is selling EVs really all
that different from selling ICE vehicles?
Evolving customer expectations – as opposed to electrification –
is the impetus for change. Electrification is merely the lever to
disrupt an industry that hasn't changed its retail model in over 80
years and still remains slow to adjust.
Even before the COVID pandemic, and before mainstream EV sales
took off in most markets, consumers wanted a simplified and more
digital purchase process, according to S&P Global Mobility
surveys. But does that naturally lead to the elimination of the
physical dealership?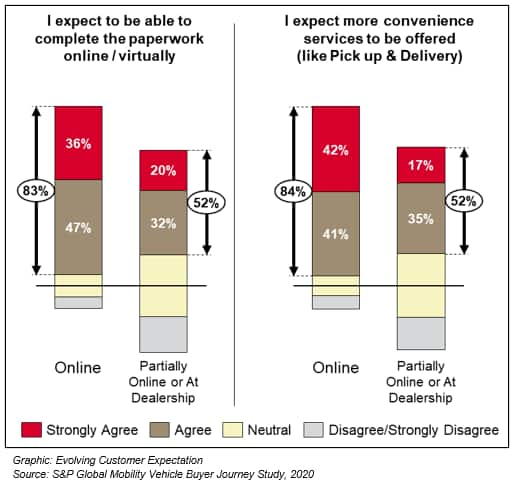 Customer Convenience Newly Defined
The impact of online engagement and omni-channel journey is
already measurable in changing geographical consumer behavior
data.
'Customer Convenience' traditionally is a metric focused on
customer drive time to dealers and used by OEMs to measure network
coverage. Consumers today travel 11% further on average than five
years ago, reducing the need for very dense dealer networks.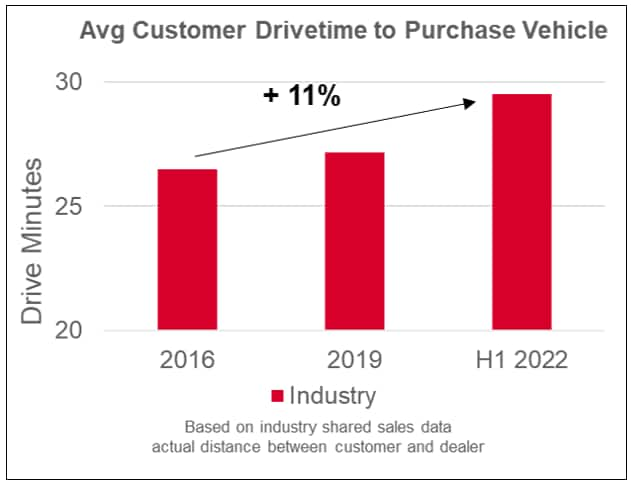 With shifting consumer behavior, many have questioned the future
need for bricks and mortar showrooms. And certainly, some reduction
of physical footprint will occur. That said…
Dealers are still relevant if there is a Business
Case
For all the praise of the Amazon model, buying a car involves a
different sensibility. Consumers want to touch, feel and experience
the product. They also need the peace of mind to have a local go-to
point for servicing, as remote-servicing models continue to face
challenges. Physical representation will therefore remain crucial.
Consolidation should first occur in facility optimization and
investor consolidation, only then followed by responsible rooftop
consolidation.
Facility recycling and right-sizing showroom space is not only
important to reduce dealer operational costs, but also imperative
to adjusting dealerships as the sales process becomes more casual
and personal, rather than transactional. Removing desk space and
printers in exchange for casual seating and coffee bars is only the
tip of the iceberg to a new physical retail experience – which also
provides an opportunity to improve on ESG in retail.
There is opportunity to generate a win-win outcome from this
industry disruption, for OEMs, dealers, and consumers.
Is Agency Model the answer?
All innovative retail models eventually aim to provide superior
customer experience, long-term profitability for dealers (beyond
current favorable market conditions ending), and reduced cost of
retail.
Agency Models (where contractually feasible) seem to be a
suitable lever to harmonize and simplify the sales process, provide
seamless experience along online and offline touchpoints, as well
as reduce unnecessary intra-brand competition through better price
transparency. If such model is adopted, OEMs and retailers should
go all-in. However, hybrid models such as 'non-genuine agency' fall
short of generating the expected efficiencies and expose legal
risks.
I know we don't like to use other folks' data, but a recent Pied
Piper mystery-shopper study found HUGE shopper resistance to the
new omnichannel approach.

To learn more about our Dealer
Network Development solutions, click here
Authors:
Tanja Linken – Executive Director, Automotive Dealer Network
Development, S&P Global Mobility
Martin Garbutt – Associate Director, Automotive Consulting, S&P
Global Mobility