Marshall Motor Holdings has reported 74.6% turnover growth and a 354.4% rise in pre-tax profit in its first financial results since the acquisition of Motorline and privatisation by new owner Constellation Automotive.
Turnover totalled to £3.8 billion (2020: £2.15bn) at the Cambridgeshire-based AM100 retail group as its profit before tax rose from £20.9m to £95.2m in a period that was extended to 15 months as a result of the takeover by BCA's owners and its subsequent de-listing from the London Stock Exchange.
Marshall reported that the easing of COVID-19 lockdowns and the business's October acquisition of £700m turnover Motorline helped it to sell 68,276 new cars and 77,308 used vehicles in the period to March 31 – 59% and 73.7% up on the 12-month 2020 trading period.
Gross profit margin grew to 8% in new cars and 7.8% in used as supply constraints drove up the cost of vehicles, the group said.
Aftersales revenues rose by 60.6% – again compared to the COVID-impacted 12-months 2020 trading period – to £386.4m as gross margin improved from 45.1% to 46.6%.
As of March 31, the group revealed that it held adjusted net cash of £15.6m (2020: 28.8m) and had a net debt of £193.7m (2020: £70.5m). Its current finance facilities include a £60m revolving credit facility committed until September 2024.
Rising costs, evolving network
A statement by director Richard Blumberger revealed that the group's costs had also risen in the period. It stated: "Underlying operating expenses increased by £142.7m to £349.8m. While this increase was mainly driven by the change in accounting reference dates, it also reflects the impacts of acquisitions in the period and the continuation of sector-wide cost pressures."
At the date of the financial report Marshall said that it operated 160 retail sites with 26 brand partners.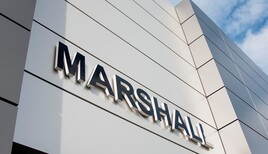 During the 15-month period Motorline was its headline acquisition, but the group also acquired Cheltenham and Gloucester Jaguar Land Rover (JLR) from Heritage Automotive, along with Leicester Nissan from Renault Retail Group.
The group also incurred £23.7m in costs as it acquired the freehold land and buildings at Tunbridge Wells Audi, Beckenham Audi and South Lakes Mercedes-Benz.
It also disposed of 11 businesses, however.
Among them were: Newbury Honda; Maidstone Maserati; Newbury Nissan; Motorline Drive Now used cars sales; Cambridge used cars; the Sydenham Audi used vehicle franchise; Brighton TPS; and Grimsby Volkswagen.
Post period
Marshall's latest financial results were followed by a period in which BCA-owner Constellation Automotive took control of the business, reshuffling its board and de-listing it from the London Stock Exchange.
Long-standing Marshall chief executive and AM Awards Business Leader of the Year Daksh Gupta departed the business before its franchise partners including Mercedes and BMW gave their backing to its new leadership team.
However, just over a month later, Drayton Motors took over Marshall's Scunthorpe Kia franchise, while Peterborough-based Donalds Group has been linked with a move to take on the group's Ipswich operation with the Korean brand as the two parties severed ties.
Constellation later denied that Marshall's exit from the Kia UK franchised dealer network was connected to leadership changes following its takeover.