JCT600 has severed its ties with its Stellantis franchises Vauxhall, Peugeot and Citroen following a full strategic review of future opportunities and its brand partners.
The Bradford-based AM100 car retail group's Vauxhall, Peugeot and recently-opened Citroen dealership on Sticker Lane, Bradford, will close with immediate effect as part of the shift, while its Vauxhall dealership in Castleford and Peugeot in Menston will shift to Kia and Cupra next summer.
In a statement issued to AM, JCT600 chief executive John Tordoff said: "Having represented some of these brands for many years, this decision has not been taken lightly.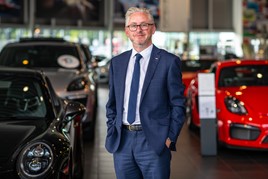 "Given the huge global changes in recent years, we have to ensure that the business is fit for purpose for the future.
"This has required us to make some difficult choices to ensure we invest our resources and manpower in the brands where we are seeing the greatest customer demand, particularly those which are focussing on developing greener, electric vehicles and providing outstanding customer support."
JCT600's said that its strategic exit from Stellantis' franchised retail networks would affect 100 colleagues, over 90% of whom have been offered alternative roles at other dealerships within the group.
Its immediate closure of its Sticker Lane multi-brand site will coincide with the relocation of its specialist body shop from Bradford to a new site adjacent to JCT600's luxury vehicle dealerships in Leeds.
The group said this would reduce unnecessary vehicle movements, giving environmental benefits and efficiencies, adding that "all staff employed at this site will retain their jobs".
Tordoff said: "We have done our best to ensure that the vast majority of colleagues impacted by the changes are offered jobs at other local JCT600 businesses close to where they live, and I would like to thank each of them for their hard work and service.
"We also appreciate the loyalty of customers at these dealerships over the years and hope to continue to look after their needs, whether for servicing, MOTs or vehicles, at our other dealerships.
"Given our excellent reputation and solid financial base, we have an incredibly strong platform on which to drive the business forward. 
"We have some very exciting opportunities ahead of us with both existing and new brands, all of which will be announced in due course."
Tordoff added: "It is safe to say the future of JCT600 is even more exciting than its past as the company continues to evolve and we begin to navigate our way through the next 75 years."
JCT600 is cutting its ties with Stellantis four years after it ended its long-standing franchised partnership with BMW and Mini in Bradford.
In the years since, however, it has strengthened its ties with Porsche and Ferrari – developing new retail and aftersales facilities for each brand – and also established a Roll-Royce franchise in Leeds.
Stellantis is one of a number of OEMs which has already set its path towards an agency model for its car retailers. Last year it issued a two-year termination notice to its entire European network.